Disorders of Consciousness, Volume 1157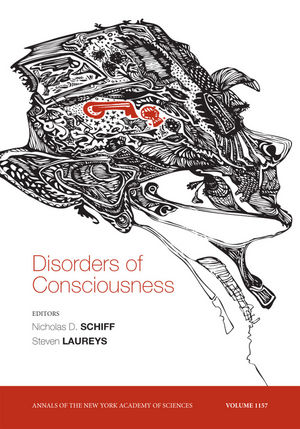 Disorders of Consciousness, Volume 1157
ISBN: 978-1-573-31743-6 May 2009 Wiley-Blackwell 300 Pages
Description
Advances in neuroimaging and neuroscience hold significant promise for improving understanding of disorders of consciousness arising from severe brain injuries. This volume brings together basic neuroscientists and investigators who focus on neuroimaging studies of patients in different clinical settings with disorders of consciousness. Discussed are ways of advancing knowledge of diagnostic methods and experimental therapeutic strategies for disorders of consciousness as well as identifying important challenges for professionals engaged in the study of patients with such disorders.  Of particular interest and focus of discussion are: 
• an integrated presentation of basic and clinical neuroscience with neuroethics;
• neuroimaging of volitional behavior in apparently unconscious patients;
• neuroimaging of pain in the minimally conscious state;
• experimental and clinical studies of central thalamic brain stimulation in the injured brain;
• new concepts in neuroethics; and
• new diagnostic methods for assessment of severe brain injury
Published in cooperation with the Association for Research on Nervous and Mental Disorders.
NOTE: Annals volumes are available for sale as individual books or as a journal. For information on institutional journal subscriptions, please visit www.blackwellpublishing.com/nyas.
ACADEMY MEMBERS: Please contact the New York Academy of Sciences directly to place your order (www.nyas.org). Members of the New York Academy of Science receive full-text access to the Annals online and discounts on print volumes. Please visit http://www.nyas.org/MemberCenter/Join.aspx for more information about becoming a member.
Table of contents
Preface: Nicholas D. Schiff and Steven Laureys.
1. Dualism persists in the science of mind: Athena Demertzi, Charlene Liew, Didier Ledoux, Marie-Aurélie Bruno, Steven Laureys, and Adam Zeman.
2. Synchrony in the Interconnected Circuitry of Thalamus and Cerebral Cortex: Edward G. Jones.
3. Definition of Arousal and Mechanistic Studies in Intact and Brain-Damaged Mice: Isabel Arrieta-Cruz and Donald W. Pfaff.
4. Coma: G. Bryan Young.
5. Theories of Impaired Consciousness in Epilepsy: Lissa Yu and Hal Blumenfeld.
6. Simultaneous Electroencephalography and Functional Magnetic Resonance Imaging of General Anesthesia: Patrick L. Purdon, Eric T. Pierce, Giorgio Bonmassar, John Walsh, P. Grace Harrell, Jean Kwo, Daniel Deschler, Margaret Barlow, Rebecca C. Merhar, Camilo Lamus, Catherine M. Mullaly, Mary Sullivan, Sharon Maginnis, Debra Skoniecki, Helen-Anne Higgins, and Emery N. Brown.
7. Exploring altered consciousness states by MRI in brain injury: Thomas Lescot, Damien Galanaud, and Louis Puybasset.
8. Neuroimaging and the Vegetative State: Resolving the behavioral assessment dilemma: Martin M. Monti, Martin R. Coleman, and Adrian M. Owen.
9. A brain-computer interface controlled auditory even-related potential (P300) spelling system for locked-in patients: Andrea Kübler, Adrian Furdea, Sebastian Halder, Eva Maria Hammer, Femke Nijboer, and Boris Kotchoubey.
10. Central thalamic deep brain stimulation in the severely injured brain: rationale and proposed mechanisms of action: Nicholas D. Schiff.
11. Ethical Issues in the Treatment of Severe Brain Injury: The Impact of New Technologies: James L. Bernat.
12. Being Conscious of their Burden: Severe Brain Injury and The Two Cultures Challenge: Joseph J. Fins.
Index of Contributors.