Dyslexia and Stress, 2nd Edition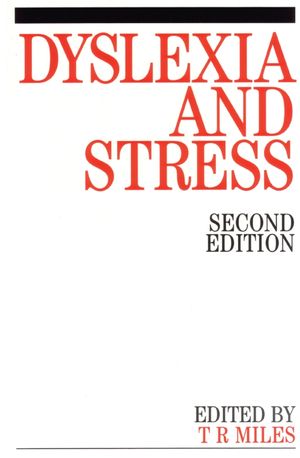 Dyslexia and Stress, 2nd Edition
ISBN: 978-1-861-56383-5 January 2004 216 Pages
Description
Though a good deal is known about the remediation of dyslexics of all ages, there is growing awareness among teachers and others that there is much more to their work that teaching literacy skills. Most of us experience stress at some point in our lives, but experience suggests that dyslexics are particularly vulnerable to it. This book presents documented evidence on the subject.
The second edition has been substantially rewritten and contains contributions from both dyslexics and non-dyslexics. Many of the contributors to the first edition have substantially rewritten their original chapters.
Among the new contributors are Morag Kiziewicz, herself dyslexic and a learning support manager at the University of Bath; Michael Lea, a professional musician; and Julian Cox, who, in the editor' s view, was unjustly convicted of murder by the courts when the whole event leading to this was a tragic accident brought about by his disabilities. All describe the ways in which dyslexia has influenced their lives. There are also chapters by Lindsay Peer, who writes from her standpoint as education office of the British Dyslexia Association and Melanie Jameson, who is advisor to the Adult Dyslexia organization and speaks of the way dyslexics' stresses in the lawcourts sometimes lead to serious miscarriages of justice.
Table of contents
Letter From a Mother, Karen Dodd.
Stress Factors in Early Education, Patience Thomson
Stress Factors in Adolescence, Steve Chinn.
Stress Factors in the College Student, Dorothy Gilroy.
Deadlines - Collision, Confusion, collapse, Morag Kiziewicz.
Stress Factors in The Workplace, Gerald Hales.
Dyslexia and The Law, Melanie Jameson.
Stress Factors in Gifted Dyslexic children, Peter Congdon.
Stress Factors Within The Family, Roger Saunders.
Stress - The Hidden Side of Dyslexia, Lindsay Peer.
Living With Dyslexia - a personal Account, Dave Alexander.
Disruptive Dyslexic Cycle of Stress, Joy Aldridge.
Dyslexia Without Stress, Michael Newby.
The Positive and The negative, Brother Matthew Sasse.
A Letter, Sheena Harrison.
I am a Singer, Janet Coker.
How Dyslexia has Affected my Life, Brenda Millward.
The Stresses of a Dyslexic Professional Musician, Michael Lea.
The Stresses of a Dyslexic entrepreneur, Julian Cox.
Individual Case Studies and Recent Research, Angela Fawcett.
Some Final Thoughts, Tim Miles.