Ecological Bulletins, Bulletin 50, Biodiversity Evaluation Tools for European Forests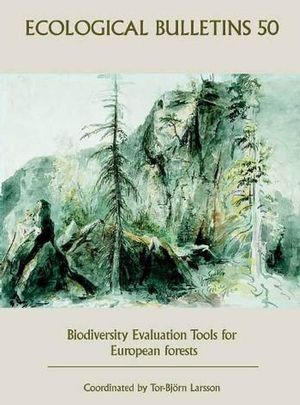 Ecological Bulletins, Bulletin 50, Biodiversity Evaluation Tools for European Forests
ISBN: 978-8-716-16434-6 January 2001 Wiley-Blackwell 240 Pages
Description
The Biodiversity Evaluation Tools BETs for European forest
presented in this report are the outcome of a pan-European project BEAR, bringing together expertise from 27 European research organisations. The main achievements are a common scheme of key factors of biodiversity applicable to European forests, European-level Forest Types for Biodiversity Assessment and a list of potential biodiversity indicators to assess forest biodiversity. Furthermore the report gives general advice for European and national level assessment and monitoriing of forest biodiversity.
The BETs for European forest will, hopefully, help to develop both the policy framework for conserving European forests as well as the operational level management.
Table of contents
Executive Summary.
The Biodiversity Challenge.
Biodiversity And Its Components.
Policy Development As Regards The Management Of Forest Biodiversity.
Biodiversity Assessment And Evaluation.
The EU Project "Indicators For Monitoring And Evaluation Of Forest Biodiversity In Europe - BEAR".
Biodiversity In European Forests.
Historical Development Of Forest Land.
The State Of Biodiversity In European Forests.
Identifying Main Features Of European Forest Biodiversity.
Key Factors Of Forest Biodiversity.
The Concept Of Forest Types For Biodiversity Assessments.
Major European Forest Types For Biodiversity Assesment.
Principles For Assessing Forest Biodiversity In Europe.
Biodiversity Indicators And Assessment.
Assessing Key Factors Of Forest Biodiversity.
Conclusions.
A Strategy For Assessment Of Forest Biodiversity On European Scale.
Assessment Of Forest Biodiversity On The Operational Scale.
The Need For Further Development And Research.
References.
Appendices.
Appendix 1. BEAR Partners And User-Panel.
Appendix 2. Important European Forest Types According To The Habitats Directive.
Appendix 3. CORINE Land Cover Types Of Relevance To Forest Biodiversity.
Appendix 4. The Scheme Of Potential Natural Vegetation Of Europe.
Appendix 5. European Forest Type Schemes.
Appendix 6. A Bibliography Of Terms And Definitions.
Appendix 7. Indicators Of Biodiversity: Recent Approaches And Some General Suggestions.
Appendix 8. Electronic Conference On Research And Biodiversity: Preliminary Report On The Session On Forest