Edgeloop Character Modeling For 3D Professionals Only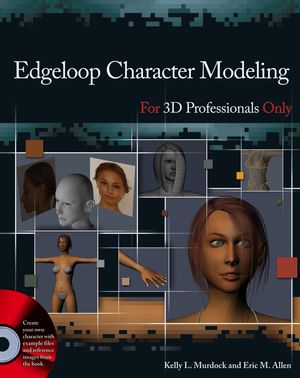 Edgeloop Character Modeling For 3D Professionals Only
ISBN: 978-0-470-03629-7
Sep 2006
321 pages
Product not available for purchase
Description
Learn the secrets for breathing life into your characters with this guide to edgeloop modeling. As you progress through the pages of this book, you'll create a character with personality, realistic form, and natural motion. Guided by computer graphics expert Kelly Murdock and award-winning artist and animator Eric Allen, your character will grow and develop along with your expertise. You'll:
learn to use edgeloop selection and creation features in 3ds Max®, Maya®, Softimage, and Modo.
take a comparative look at point, box, loft, and other character modeling methods.
model a detailed body form that is anatomically correct and has detailed facial features.
enhance a character with hair and clothing
texture a character completely using high-resolution texture map.
A CD-ROM accompanies the book.
About the Authors.
Credits.
Preface.
Acknowledgments.
Part I: Introducing Character Modeling and Edgeloops.
Chapter 1: Character Design.
Chapter 2: Modeling Approaches—A Comparative Look.
Chapter 3: Introducing Edgeloop Modeling.
Part II: Creating a Body Form.
Chapter 4: Building the Body Torso.
Chapter 5: Adding Arms and Legs.
Chapter 6: Modeling Hands and Feet.
Part III: Modeling the Head and Facial Features.
Chapter 7: Creating the Head Form.
Chapter 8: Creating the Nose and Eyes.
Chapter 9: Adding the Mouth and Ears.
Part IV: Further Refinement and Texturing.
Chapter 10: Final Modeling Refinements.
Chapter 11: Texturing an Edgeloop Character.
Part V: Rigging, Skinning, and Animating Approaches.
Chapter 12: Rigging and Skinning an Edgeloop Character.
Chapter 13: Animating an Edgeloop Character.
Part VI:Appendixes.
Apendix A: Edgeloop Modeling Commands for 3ds Max, Maya, Softimage, and Modo.
Appendix B: What's on the CD-ROM.
Pro Glossary.
Index.
End-User License Agreement.