Encyclopedia of Quantitative Risk Analysis and Assessment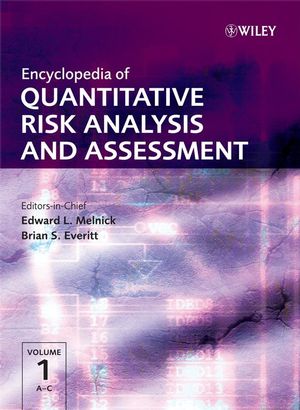 Encyclopedia of Quantitative Risk Analysis and Assessment
ISBN: 978-0-470-03549-8 July 2008 2176 Pages
Description
Leading the way in this field, the Encyclopedia of Quantitative Risk Analysis and Assessment is the first publication to offer a modern, comprehensive and in-depth resource to the huge variety of disciplines involved.

A truly international work, its coverage ranges across risk issues pertinent to life scientists, engineers, policy makers, healthcare professionals, the finance industry, the military and practising statisticians. 

Drawing on the expertise of world-renowned authors and editors in this field this title provides up-to-date material on drug safety, investment theory, public policy applications, transportation safety, public perception of risk, epidemiological risk, national defence and security, critical infrastructure, and program management.

This major publication is easily accessible for all those involved in the field of risk assessment and analysis. For ease-of-use it is available in print and online.
VOLUME 1.
Absolute Risk Reduction.
Accelerated Life Testing.
Actuary.
Adverse Selection.
Air Pollution Risk.
Alternative Risk Transfer.
Arsenic.
As Low as Reasonably Practicable/As Low as Reasonably Achievable.
Asbestos.
Assessment of Risk Association with Beryllium Exposure.
Asset–Liability Management for Life Insurers.
Asset–Liability Management for Nonlife Insurers.
Association Analysis.
Attributable Fraction and Probability of Causation.
Availability and Maintainability.
Axiomatic Measures of Risk and Risk-Value Models.
Axiomatic Models of Perceived Risk.
Basic Concepts of Insurance.
Bayes' Theorem and Updating of Belief.
Bayesian Analysis and Markov Chain Monte Carlo Simulation.
Bayesian Statistics in Quantitative Risk Assessment.
Behavioral Decision Studies.
Benchmark Analysis.
Benchmark Dose Estimation.
Benzene.
Bioequivalence.
Blinding.
Bonus–Malus Systems.
Burn-in Testing: Its Quantification and Applications.
1,3-Butadiene.
Cancer Risk Evaluation from Animal Studies.
Canonical Modeling.
Case–Control Studies.
Causal Diagrams.
Causality/Causation.
Censoring.
Change Point Analysis.
Chernobyl Nuclear Disaster.
Clinical Dose–Response Assessment.
Coding: Statistical Data Masking Techniques.
Cohort Studies.
Collective Risk Models.
Combining Information.
Common Cause Failure Modeling.
Comonotonicity.
Comparative Efficacy Trials (Phase III Studies).
Comparative Risk Assessment.
Compensation for Loss of Life and Limb.
Competing Risks.
Competing Risks in Reliability.
Compliance with Treatment Allocation.
Computer Security: A Historical Perspective.
Condition Monitoring.
Conflicts, Choices, and Solutions: Informing Risky Choices.
Confounding.
Considerations in Planning for Successful Risk Communication.
Continuous-Time Asset Allocation.
Copulas and Other Measures of Dependency.
Correlated Risk.
Cost-Effectiveness Analysis.
Counterterrorism.
Credibility Theory.
Credit Migration Matrices.
Credit Risk Models.
Credit Scoring via Altman Z-Score.
Credit Value at Risk.
Cross-Species Extrapolation.
Cumulative Risk Assessment for Environmental Hazards.
Cyber Risk Management.
VOLUME 2.
Data Fusion.
Decision Analysis.
Decision Conferencing/Facilitated Workshops.
Decision Modeling.
Decision Trees.
Default Correlation.
Default Risk.
Degradation and Shock Models.
Dependent Insurance Risks.
Design of Reliability Tests.
Detection Limits.
Digital Governance, Hotspot Detection, and Homeland Security.
Dioxin Risk.
Disease Mapping.
Distributions for Loss Modeling.
Dose–Response Analysis.
Dynamic Financial Analysis.
Early Warning Systems (EWSs) for Predicting Financial Crisis.
Ecological Risk Assessment.
Economic Criteria for Setting Environmental Standards.
Effect Modification and Interaction.
Efficacy.
Engineered Nanomaterials.
Enterprise Risk Management (ERM).
Environmental Carcinogenesis Risk.
Environmental Exposure Monitoring.
Environmental Hazard.
Environmental Health Risk.
Environmental Health Risk Assessment.
Environmental Health Triage, Chemical Risk Assessment for.
Environmental Monitoring.
Environmental Performance Index.
Environmental Remediation.
Environmental Risk Assessment of Water Pollution.
Environmental Risk Regulation.
Environmental Risks.
Environmental Security.
Environmental Tobacco Smoke.
Epidemiology as Legal Evidence.
Equity-Linked Life Insurance.
Estimation of Mortality Rates from Insurance Data.
Ethical Issues in Using Statistics, Statistical Methods, and Statistical Sources in Work Related to.
Homeland Security.
Evaluation of Risk Communication Efforts.
Experience Feedback.
Expert Elicitation for Risk Assessment.
Expert Judgment.
Extreme Event Risk.
Extreme Value Theory in Finance.
Extreme Values in Reliability.
Extremely Low Frequency Electric and Magnetic Fields.
Failure Modes and Effects Analysis.
Fair Value of Insurance Liabilities.
Fate and Transport Models.
Fault Detection and Diagnosis.
Federal Statistical Systems as Data Sources for Intelligence, Investigative, or Prosecutorial Work.
Fraud in Insurance.
From Basel II to Solvency II – Risk Management in the Insurance Sector.
Game Theoretic Methods.
Gene–Environment Interaction.
Geographic Disease Risk.
Global Warming.
Group Decision.
Hazard and Hazard Ratio.
Hazardous Waste Site(s).
Hazards Insurance: A Brief History.
Health Hazards Posed by Dioxin.
Hexavalent Chromium.
History and Examples of Environmental Justice.
History of Epidemiologic Studies.
Homeland Security and Transportation Risk.
Hormesis.
Hotspot Geoinformatics.
Human Reliability Assessment.
Imprecise Reliability.
Individual Risk Models.
Inequalities in Risk Theory.
Inferiority and Superiority Trials.
Influence Diagrams.
Informational Value of Corporate Issuer Credit Ratings.
Insurability Conditions.
Insurance Applications of Life Tables.
Insurance Pricing/Nonlife.
Integration of Risk Types.
Intensity Modeling: The Cox Process.
Intent-to-Treat Principle.
Interpretations of Probability.
VOLUME 3.
Kriging.
Large Insurance Losses Distributions.
Latin Hypercube Sampling.
Lead.
Lévy Processes in Asset Pricing.
Life Insurance Markets.
Lifetime Models and Risk Assessment.
Linkage Analysis.
Logistic Regression.
Longevity Risk and Life Annuities.
Low-Dose Extrapolation.
Maintenance Modeling and Management.
Managing Foodborne Risk.
Managing Infrastructure Reliability, Safety, and Security.
Managing Risks of Consumer Products.
Markov Modeling in Reliability.
Mathematical Models of Credit Risk.
Mathematics of Risk and Reliability: A Select History.
Mercury/Methylmercury Risk.
Meta-Analysis in Clinical Risk Assessment.
Meta-Analysis in Nonclinical Risk Assessment.
Methylmercury.
Microarray Analysis.
Mobile Phones and Health Risks.
Model Risk.
Modifiable Areal Unit Problem (MAUP).
Molecular Markers and Models.
Monte Carlo Methods.
Moral Hazard.
Multiattribute Modeling.
Multiattribute Utility Functions.
Multiattribute Value Functions.
Multistate Models for Life Insurance Mathematics.
Multistate Systems.
Multivariate Reliability Models and Methods.
Natural Resource Management.
Near-Miss Management: A Participative Approach to Improving System Reliability.
No Fault Found.
Non- and Semiparametric Models and Inference for Reliability Systems.
Nonlife Insurance Markets.
Nonlife Loss Reserving.
Nonparametric Calibration of Derivatives Models.
Nuclear Explosion Monitoring.
Numerical Schemes for Stochastic Differential Equation Models.
Occupational Cohort Studies.
Occupational Risks.
Odds and Odds Ratio.
Operational Risk Development.
Operational Risk Modeling.
Optimal Risk-Sharing and Deductibles in Insurance.
Optimal Stopping and Dynamic Programming.
Options and Guarantees in Life Insurance.
Ordering of Insurance Risk.
Parametric Probability Distributions in Reliability.
Persistent Organic Pollutants.
Pesticide Risk.
Pharmaceuticals in the Environment.
Players in a Decision.
Point Source Modeling.
Polychlorinated Biphenyls.
Potency Estimation.
Precautionary Principle.
Precautionary Principles: Definitions, Issues, and Implications for Risky Choices.
Premium Calculation and Insurance Pricing.
Pricing of Life Insurance Liabilities.
Privacy Protection in an Era of Data Mining and Record Keeping.
Probabilistic Design.
Probabilistic Risk Assessment.
Product Risk Management: Testing and Warranties.
Professional Organizations in Risk Management.
Protection of Infrastructure.
Public Health Surveillance.
Public Participation.
Quantitative Reliability Assessment of Electricity Supply
VOLUME 4.
R&D Planning and Risk Management.
Radioactive Chemicals/Radioactive Compounds.
Radon.
Radon Risk.
Randomized Controlled Trials.
Recurrent Event Data.
Reinsurance.
Relative Risk.
Reliability Data.
Reliability Demonstration.
Reliability Growth Testing.
Reliability Integrated Engineering Using Physics of Failure.
Reliability of Consumer Goods with "Fast Turn Around".
Reliability of Large Systems.
Reliability Optimization.
Remote Sensing.
Repair, Inspection, and Replacement Models.
Repairable Systems Reliability.
Repeated Measures Analyses.
Risk and the Media.
Risk Attitude.
Risk Characterization.
Risk Classification in Nonlife Insurance.
Risk Classification/Life.
Risk from Ionizing Radiation.
Risk in Credit Granting and Lending Decisions: Credit Scoring.
Risk Management of Construction Defects.
Risk Measures and Economic Capital for (Re)insurers.
Risk–Benefit Analysis for Environmental Applications.
Risk-Neutral Pricing: Importance and Relevance.
Role of Alternative Assets in Portfolio Construction.
Role of Risk Communication in a Comprehensive Risk Management Approach.
Ruin Probabilities: Computational Aspects.
Ruin Theory.
Safety.
Sampling and Inspection for Monitoring Threats to Homeland Security.
Scenario Simulation Method for Risk Management.
Scenario-Based Risk Management and Simulation Optimization.
Scientific Uncertainty in Social Debates Around Risk.
Securitization/Life.
Simulation in Risk Management.
Social Networks.
Societal Decision Making.
Software Testing and Reliability.
Soil Contamination Risk.
Solvency.
Spatial Risk Assessment.
Spatiotemporal Risk Analysis.
Stakeholder Participation in Risk Management Decision Making.
Statistical Arbitrage.
Statistics for Environmental Justice.
Statistics for Environmental Mutagenesis.
Statistics for Environmental Teratogenesis.
Statistics for Environmental Toxicity.
Stochastic Control for Insurance Companies.
Stratospheric Ozone Depletion.
Stress Screening.
Structural Models of Corporate Credit Risk.
Structural Reliability.
Structured Products and Hybrid Securities.
Subjective Expected Utility.
Subjective Probability.
Supra Decision Maker.
Survival Analysis.
Syndromic Surveillance.
Systems Reliability.
Threshold Models.
Toxic Torts: Implications for Risk Management.
Toxicity (Adverse Events).
Truncation.
Ultrahigh Reliability.
Uncertainty Analysis and Dependence Modeling.
Uncertainty and Variability Characterization and Measures in Risk Assessment.
Understanding Large-Scale Structure in Massive Data Sets.
Use of Decision Support Techniques for Information System Risk Management.
Utility Function.
Value at Risk (VaR) and Risk Measures.
Value Function.
Volatility Modeling.
Volatility Smile.
Vulnerability Analysis for Environmental Hazards.
Warranty Analysis.
Water Pollution Risk.
Wear.
Weather Derivatives.
What are Hazardous Materials?
Zero Failure Data.
"This encyclopedia will definitely contribute positively to an opening up of the field of risk management beyond the constrained boundaries of specific disciplines." (
Journal of the American Statistical Association
, September 2009)
"An excellent source for professionals in the field, this is really more a handbook than an encyclopedia. The material presented is of high quality. ... Many of the articles are easily understandable by a layperson. This work will be a valuable addition for all collections emphasizing mathematical statistics and for most large academic and public libraries. Recommended." (Choice, February 2009)