Engineering the Genetic Code: Expanding the Amino Acid Repertoire for the Design of Novel Proteins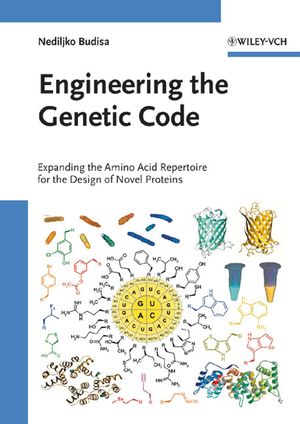 Engineering the Genetic Code: Expanding the Amino Acid Repertoire for the Design of Novel Proteins
ISBN: 978-3-527-31243-6
Nov 2005
312 pages
Description
The ability to introduce non-canonical amino acids in vivo has greatly expanded the repertoire of accessible proteins for basic research and biotechnological application.
Here, the different methods and strategies to incorporate new or modified amino acids are explained in detail, including a lot of practical advice for first-time users of this powerful technique.
Novel applications in protein biochemistry, genomics, biotechnology and biomedicine made possible by the expansion of the genetic code are discussed and numerous examples are given.
Essential reading for all molecular life scientists who want to stay ahead in their research.
INTRODUCTION
Classical Approaches for Protein Modification
Protein Total Synthesis
Basic Definitions and Taxonomy
HISTORY OF AN EXPANDED AMINO ACID REPERTOIRE
Cell-free Synthesis of Proteins
Noncanonical Amino Acids as Tools for Studying Metabolism
Genetic Code Engineering
BASIC FEATURES OF THE CELLULAR TRANSLATION APPARATUS
Ribosome-mediated Protein Synthesis
tRNAs and tRNA Synthetases
Translational Proofreading
Ribosomal Decoding, Codon Bias and Translational Fidelity
Context-dependent Recoding
Post-translational Modifications
GENETIC CODE ORGANISATION AND PROTEIN STRUCTURE
The Universal Genetic Code
Natural Variations in Codon Assignment
Codon Reassignment and Codon Ambiguity
REPROGRAMMING THE CELLULAR TRANSLATION MACHINERY
Enzyme Specificity and Code Interpretation
Reassigning Coding and Non-Coding Units
In vitro Chemical and Enzymatic tRNA Aminoacylation
Novel Codon-Anticodon Base Pairs
Stop Codon Takover
Suppression-Based Methods
Future Approaches
IMPLICATIONS AND INSIGHTS
Evolution of the Amino Acid Repertoire
Artificial Genetic Systems
De novo Design of Organisms
Chances and Risks
APPLICATIONS FOR REPROGRAMMED CELLULAR TRANSLATION
Genetically Encoded Protein Surface Diversity
Applications in Structural Biology
Atomic Mutations
Protein Folding, Stability and Design
Tailoring Protein Spectroscopy
Protein-based Sensors
Applications in Biomedicine
Noncanonical Amino Acids with Neurological Activity
""In his book, Nediljko Budisa covers this highly interdisciplinary field and allows people not directly involved in protein engineering to get acquainted and up-to-date with the most recent and exciting developments. The book, which is the first of its kind dedicated entirely to this area of research, provides a comprehensive overview of the field. The book comprises seven chapters and has a clear structure supported by a multitude of fine illustrations, thus making the book a good read for those interested in protein engineering. ... Moreover, an excellent update on protein translation in general is given, which is useful for students and newcomers in the field. (...) The book provides an excellent introduction for first-time readers to the field of genetic-code engineering and, as stated on the back of the book, this is 'essential reading to all molecular life scientists who want to stay ahead in their research'."" ChemBioChem

""The numerous examples illustrate the new prospects that are opened up by genetic code engineering. We can expect novel proteins with properties that cannot be foreseen in detail, when one considers that, even for polypeptides based on the 20 proteinogenic amino acids, the rules of folding are still not known.""
Angewandte Chemie International Edition