Enterprise Guide to Gaining Business Value from Mobile Technologies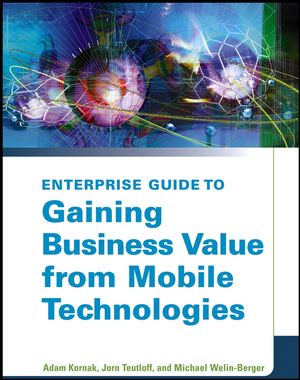 Description
This is the first book to deliver specific guidelines for integrating mobile and wireless technologies into a business organization to enhance business processes, reduce operating expenses, or produce additional revenue streams
Builds off the material from Cap Gemini Ernst & Young Guide to Wireless Enterprise Application Architecture (0-471-20951-1), which described how to build a wireless enterprise application architecture for optimum performance
Presents a proprietary, step-by-step methodology that shows how to identify opportunities to integrate mobile technologies into an organization
Describes the strategic framework and development approach used by experienced project teams for building a mobile technology solution
Features extensive real case studies from Microsoft and Cap Gemini Ernst & Young's extensive business portfolio
Acknowledgments.
About the Authors.
Foreword.
Part 1: Introduction to Mobile and Wireless Technologies.
Chapter 1: Wireless and Mobility Defined.
Chapter 2: The Driving Forces of Mobile's Growth.
Chapter 3: Mobile Devices Showcase.
Chapter 4: Wireless Networks Overview.
Part 2: Opportunity Identification and Case Studies.
Chapter 5: The Value Web Framework.
Chapter 6: The Wireless Value Web.
Chapter 7: The Three Functional Domains.
Chapter 8: Communication.
Chapter 9: Information.
Chapter 10: Commerce.
Chapter 11: Microsoft and CGE&Y Case Studies.
Part 3: Strategy Formulation and Implementation Methodology.
Chapter 12: Developing a Mobile/Wireless Solution.
Chapter 13: Methodology for Building the Solution.
Appendix A: Industry Associations.
Appendix B: Useful URLs.
Appendix C: Glossary.
Index.