Evolution after Gene Duplication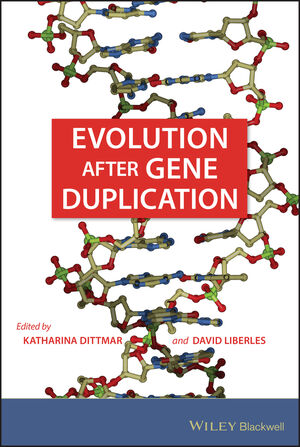 Evolution after Gene Duplication
ISBN: 978-0-470-59382-0 October 2010 Wiley-Blackwell 358 Pages
Description
Gene duplication has long been believed to have played a major role in the rise of biological novelty through evolution of new function and gene expression patterns. The first book to examine gene duplication across all levels of biological organization, Evolution after Gene Duplication presents a comprehensive picture of the mechanistic process by which gene duplication may have played a role in generating biodiversity.

Key Features:
Explores comparative genomics, genome evolution studies and analysis of multi-gene families such as Hox, globins, olfactory receptors and MHC (immune system)
A complete post-genome treatment of the topic originally covered by Ohno's 1970 classic, this volume extends coverage to include the fate of associated regulatory pathways
Taps the significant increase in multi-gene family data that has resulted from comparative genomics
Comprehensive coverage that includes opposing theoretical viewpoints, comparative genomics data, theoretical and empirical evidence and the role of bioinformatics in the study of gene duplication
This up-to-date overview of theory and mathematical models along with practical examples is suitable for scientists across various levels of biology as well as instructors and graduate students.
Contributors.
Preface
1 Understanding Gene Duplication through Biochemistry and Population Genetics (David A. Leberles, Grigory Kolesov, and Katharina Dittmar).
2 Functional Divergence of Duplicated Genes (Takashi Makino, David G. Knowles, and Aoife McLysaght).
3 Duplication Retention After Small- and Large-Scale Duplications (Steven Maere and Yves Van de Peer).
4 Gene Dosage and Duplication (Fyodor A. Kondrashov).
5 Myths and Realities of Gene Duplication (Austin L. Hughes and Robert Friedman).
6 Evolution After and Before Gene Duplication? (Tobias Sikosek and Erich Bornberg-Bauer).
7 Protein Products of Tandem Gene Duplication: A Structural View (William R. Taylor and Michael I. Sadowski).
8 Statistical Methods for Detecting Functional Divergence of Gene Familiies (Xun Gu).
9 Mapping Gene Gains and Losses Among Metazoan Full Genomes Using an Integrated Phylogenetic Framework (Athanasia C. Tzika, Raphaël Helaers, and Michel C. Milinkovitch).
10 Reconciling Phylogenetic Trees (Oliver Eulenstein, Snehalata Huzurbazar, and David A. Liberles).
11 On the Energy and Material Cost of Gene Duplication (Andreas Wagner).
12 The Fate of a Duplication in a Network Context (Orkun S. Soyer).
13 Evolutionary and Functional Aspects of Genetic Redundancy (Ran Kafri and Tzachi Pilpel).
14 A Phylogenomic Approach to the Evolutionary Dynamics of Gene Duplication in Birds (Gene L. Organ, Matthew D. Rasmussen, Maude W. Baldwin, Manolis Kellis, and Scott V. Edwards).
15 Gene and Genome Duplications in Plants (Pamela S. Soltis, J. Gordon Burleigh, Andre S. Chanderbali, Mi-Jeong Yoo, and Douglas E. Soltis).
16 Whole Genome Duplications and the Radiation of Vertebrates (Shigehiro Kuraku and Axel Meyer).
Index.
"This up-to-date overview of theory and mathematical models along with practical examples is suitable for scientists across various levels of biology as well as instructors and graduate students." (Forbes.com, 27 October 2010)