Evolution and the Big Questions: Sex, Race, Religion, and Other Matters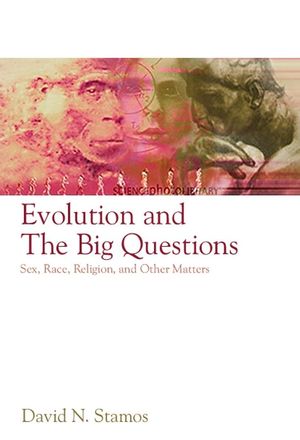 Evolution and the Big Questions: Sex, Race, Religion, and Other Matters
ISBN: 978-1-405-14903-7 January 2008 Wiley-Blackwell 288 Pages
Description
This provocative text considers whether evolutionary explanations can be used to clarify some of life's biggest questions.


Examines topics of race, sex, gender, the nature of language, religion, ethics, knowledge, consciousness and ultimately, the meaning of life

Each chapter presents a main topic, together with discussion of related ideas and arguments from various perspectives

Addresses questions such as: Did evolution make men and women fundamentally different? Is the concept of race merely a social construction? Is morality, including universal human rights, a mass delusion? Can religion and evolution really be harmonized? Does evolution render life meaningless?

Written in a clear and informative style, with helpful references for further reading and research
Table of contents
Acknowledgments.
Introduction.
1. Evolution and Knowledge.
2. Evolution and Consciousness.
3. Evolution and Language.
4. Evolution and Sex.
5. Evolution and Feminism.
6. Evolution and Race.
7. Evolution and Ethics.
8. Evolution and Religion.
9. Evolution and the Meaning of Life.
Appendix: Common Misconceptions About Evolution.
Glossary.
References.
Index.
Reviews
"In conclusion, this book is definitely worth a read, and Stamos successfully shows how evolutionary thinking has a bearing on the "Big Questions."  (Evo Edu Outreach, 1 December 2011)
"He does not simply present and adjudicate between arguments in the existent literature—he also includes some innovative arguments of his own, which gives one the impression of an author who is seriously engaged with his subject matter. Stamos is not just going through the scholarly motions: he means business." (
Reports of the National Center for Science Education
, April 2010)
"This book by Stamos is remarkable for the breadth and depth of its discussions. It promises to discuss the big questions and does just that. Stamos is very well informed ... .He presents different views on controversial issues, and does not shy away from pressing his own. Although this is a scholarly work with many references, it is written clearly and with verve. It will be of great interest to any reader willing to make the effort to understand the controversies concerning the implications of evolution. This outstanding work demonstrates how evolutionary ideas are of interest to virtually everyone. Enriching the text are a useful glossary, an extensive bibliography, and a good index. Highly recommended." (CHOICE, November 2008)
Features


Considers whether evolutionary explanations can be used to clarify some of life's biggest questions

Examines topics of race, sex, gender, the nature of language, religion, ethics, knowledge, consciousness and ultimately, the meaning of life

Each chapter presents a main topic, together with discussion of related ideas and arguments from various perspectives

Written in a clear and informative style, with helpful references for further reading and research