Excel 2007 Power Programming with VBA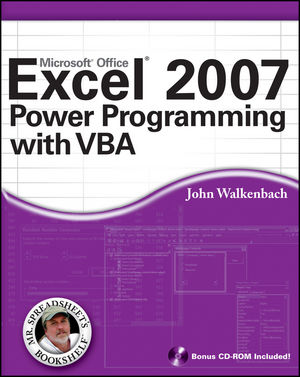 Excel 2007 Power Programming with VBA
ISBN: 978-0-470-04401-8 April 2007 1104 Pages
Description
This book is a single reference that's indispensable for Excel beginners, intermediate users, power users, and would-be power users everywhere
Fully updated for the new release, this latest edition provides comprehensive, soup-to-nuts coverage, delivering over 900 pages of Excel tips, tricks, and techniques readers won't find anywhere else
John Walkenbach, aka "Mr. Spreadsheet," is one of the world's leading authorities on Excel
Thoroughly updated to cover the revamped Excel interface, new file formats, enhanced interactivity with other Office applications, and upgraded collaboration features
Includes a valuable CD-ROM with templates and worksheets from the book
Note: CD-ROM/DVD and other supplementary materials are not included as part of eBook file.
Cannot be combined with any other offers.
Table of contents
Preface.
PART I: SOME ESSENTIAL BACKGROUND.
Chapter 1: Excel 2007: Where It Came From.
Chapter 2: Excel in a Nutshell.
Chapter 3: Formula, Tricks and Techniques.
Chapter 4: Understanding Excel's Files.
PART II: EXCEL APPLICATION DEVELOPMENT.
Chapter 5: What Is a Spreadsheet Application?
Chapter 6: Essentials of Spreadsheet Application Development.
PART III: UNDERSTANDING VISUAL BASIC FOR APPLICATIONS.
Chapter 7: Introducing Visual Basic for Applications.
Chapter 8: VBA Programming Fundamentals.
Chapter 9: Working with VBA Sub Procedures.
Chapter 10: Creating Function Procedures.
Chapter 11: VBA Programming Examples and Techniques.
PART IV: WORKING WITH USERFORMS.
Chapter 12: Custom Dialog Box Alternatives.
Chapter 13: Introducing UserForms.
Chapter 14: UserForm Examples.
Chapter 15: Advanced UserForm Techniques.
PART V: ADVANCED PROGRAMMING TECHNIQUES.
Chapter 16: Developing Excel Utilities with VBA.
Chapter 17: Working withy Pivot Tables.
Chapter 18: Working with Charts.
Chapter 19: Understanding Excel's Events.
Chapter 20: Interacting with Other Applications.
Chapter 21: Creating and Using Add-Ins.
PART VI: DEVELOPING APPLICATIONS.
Chapter 22: Working with the Ribbon.
Chapter 23: Working with Shortcut Menus.
Chapter 24: Providing Help for Your Applications.
Chapter 25: Developing User-Oriented Applications.
PART VII: OTHER TOPICS.
Chapter 26: Compatibility Issues.
Chapter 27: Manipulating Files with VBA.
Chapter 28: Manipulating Visual Basic Components.
Chapter 29: Understanding Class Modules.
Chapter 30: Working with Colors.
Chapter 31: Frequently Asked Questions about Excel Programming.
PART VIII: APPENDIXES.
Appendix A: Excel Resources Online
Appendix B: VBA Statements and Functions Reference.
Appendix C: VBA Error Codes.
Appendix D: What's on the CD-ROM.
Index.
New To This Edition
Written by top Excel authority John Walkenbach, aka "Mr. Spreadsheet."
Provides everything students need to create customized Excel applications, including an overview of Excel application development, a complete introduction to VBA programming, and lots of examples illustrating programming techniques.
Fully updated to cover the new Excel interface and features.
The CD-ROM includes over 100 sample spreadsheets from the book as well as the authorÕs award-winning Power Utility Pak.