Exercise Therapy in the Management of Musculoskeletal Disorders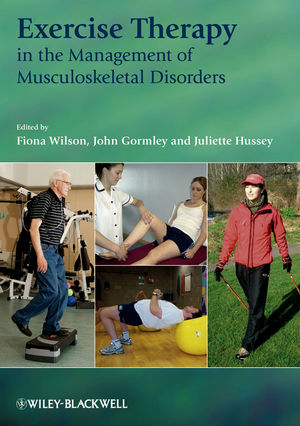 Exercise Therapy in the Management of Musculoskeletal Disorders
ISBN: 978-1-405-16938-7
Mar 2011, Wiley-Blackwell
278 pages
Description
Exercise Therapy in the Management of Musculoskeletal Disorders covers the fundamentals of using exercise as a treatment modality across a broad range of pathologies including osteoarthritis, inflammatory arthropathies and osteoporosis. As well as offering a comprehensive overview of the role of exercise therapy, the book evaluates the evidence and puts it to work with practical ideas for the management of musculoskeletal disorders in different areas of the body, for differing pathologies and for a range of patients.

Part 1 introduces the reader tothe role of exercise in managing musculoskeletal disorders and covers measurement and assessment. Part 2 looks at the regional application of exercise therapy with chapters on areas of the body such as the cervical spine, the shoulder complex and the knee. Part 3 examines specific populations: the developing child, the cardiac and respiratory patient, obesity and osteoporosis.

Exercise Therapy in the Management of Musculoskeletal Disorders is an invaluable resource for student physiotherapists as well as clinicians designing rehabilitation programmes for their patients.

KEY FEATURES
Concise and comprehensive
Team of expert contributors
Offers practical guidance
Evaluates the evidence
Contributors xi
Preface xiii
Part 1 The Principles of the Use of Exercise in Musculoskeletal Disorders 1
1 Introduction 3
John Gormley
2 The Role of Exercise in Managing Musculoskeletal Disorders 6
Fiona Wilson
Section 1: Introduction and Background 6
Section 2: Practical Application of Exercise 8
3 Measurement and Assessment in the Management of Musculoskeletal Disorders 19
Alison H. McGregor
Part 2 Regional Application of Exercise 29
4 The Cervical Spine 31
Kirsty Peacock
Section 1: Introduction and Background 31
Section 2: Practical Use of Exercise 33
Section 3: Case Studies and Student Questions 46
5 The Thoracic Spine and Rib Cage 53
Fiona Wilson
Section 1: Introduction and Background 53
Section 2: Practical Use of Exercise 57
Section 3: Case Studies and Student Questions 63
6 The Lumbar Spine 67
Fiona Wilson
Section 1: Introduction and Background 67
Section 2: Practical Use of Exercise 75
Section 3: Case Studies and Student Questions 89
7 The Shoulder Complex 94
Anne S. Viser, Michael M. Reinold, Kyle J. Rodenhi and Thomas J. Gill
Section 1: Introduction and Background 94
Section 2: Practical Use of Exercise 101
Section 3: Case Studies and Student Questions 107
8 The Elbow and Forearm Complex 113
Bill Vicenzino, Michelle Smith and Leanne Bisset
Section 1: Introduction and Background 113
Section 2: Practical Use of Exercise 117
Section 3: Student Questions 125
9 The Wrist and Hand 129
Mandy Johnson
Section 1: Introduction and Background 129
Section 2: Practical Use of Exercise 133
Section 3: Case Studies and Student Questions 138
10 The Hip and Pelvic Complex 141
Kevin Sims
Section 1: Introduction and Background 141
Section 2A: Practical Use of Exercise Around the Hip 146
Section 2B: Practical Use of Exercise Around the Pelvis 151
Section 3: Case Studies and Student Questions 154
11 The Knee 159
Mandy Johnson
Section 1: Introduction and Background 159
Section 2: Practical Use of Exercise 167
Section 3: Case Studies and Student Questions 182
12 The Foot and Ankle Complex 187
Ruth Magee
Section 1: Introduction and Background 187
Section 2: Practical Use of Exercise 192
Section 3: Case Studies and Student Questions 204
Part 3 Exercise Therapy in Special Populations 211
13 Musculoskeletal Disorders in the Developing Child 213
Juliette Hussey and Mandy Johnson
14 Musculoskeletal Disorders in the Cardiac and Respiratory Patient 223
Juliette Hussey
15 Musculoskeletal Disorders in Obesity 231
Grace O'Malley
16 Osteoporosis 242
Nicholas J. Mahony
Index 257
"Overall, this is a welcome addition. The book is not simply a compilation of exercises separated into body regions, rather it offers evidence-based rationales for their specific uses and, more importantly, when to progress a patient to higher levels of difficulty." (Doody's, 9 December 2011)


Provides a concise and comprehensive guide to exercise intervention within musculoskeletal physiotherapy

Offers practical guidance for the use of exercise therapy in the management of musculoskeletal disease in different areas of the body and for differing pathologies.

Evaluates the evidence for using exercise therapy as a treatment modality.

Examines the potential of exercise as a treatment therapy.