Floodplain Processes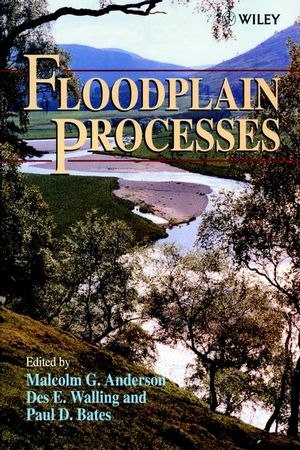 Floodplain Processes
ISBN: 978-0-471-96679-1 October 1996 668 Pages
Description
River floodplains represent a most important component of the environment. They play a critical role in the routing and storage of floodwaters and frequently represent unique and valuable habitats. Increasingly, such areas are under pressure form human activity in a wide variety of forms. This volume seeks to outline recent major research developments that have taken place in the study of floodplain processes. The chapters represent the results of recent engineering, geomorphological, hydrological, planning and other specialist developments. The book will contribute to research not only within the specialist research disciplines outlined, but also in the more interdisciplinary challenges facing river management.
List of Contributors.

The General Context for Floodplain Process Research (M. Anderson, et al).

Modelling Channel Evolution and Floodplain Morphology (A. Howard).

Analysis and Modelling of Overbank Deposits (S. Marriot).

Floodplain Palaeoenvironments (A. Brown).

River Channel and Floodplain Hydraulics (D. Knight and K. Shiono).

Recent Advances in Numerical Methods for Fluid Flows (J. Hervouet and L. Van Haren).

Analysis and Development of Hydraulic Models for Floodplain Flows (P. Bates, et al.).

Three-Dimensional Structures, Memory and Energy Dissipation in Meandering Compound Channel Flow (R. Sellin and B. Willets).

Progress in Turbulence Modelling for Open-Channel Flows (B. Younis).

Bayesian Calibration of Flood Inundation Models (R. Romanowicz, et al.).

Modelling Sediment Transport and Water Quality Processes on Tidal Floodplains (R. Falconer and Y. Chen).

Floodplains as Suspended Sediment Sinks (D. Wallig, et al.).

Fluxes and Storage of Sediment-Associated Heavy Metals in Floodplain Systems: Assessment and River Basin Management Issues at a Time of Rapid ENvironmental Change (M. Macklin).

Linking Hillslopes to Floodplains (T. Burt and N. Haycock).

Risks and Resources: Defining and Managing the Floodplain (E. Penning-Rowsell and S. Tunstall).

Sustaining the Ecological Integrity of Large Floodplain Rivers (G. Petts).

Floodplain Restoration and Rehabilitation (A. Brookes).

The Effects of River Management on the Hydrology and Hydroecology of Arid and Semi-Arid Floodplains (I. Jolly).

Integrated Field, Laboratory and Numerical Investigations of Hydrological Influences on the Establishment of Riparian Tree Species (K. Richard, et al.).

Author Index.

Subject Index.