Food Labeling Compliance Review, 4th Edition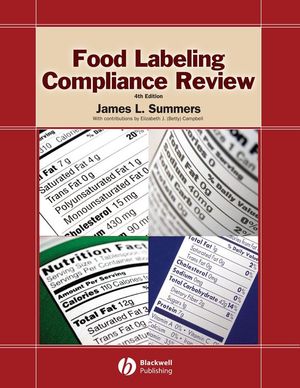 Food Labeling Compliance Review, 4th Edition
ISBN: 978-0-813-82181-8
Sep 2007, Wiley-Blackwell
334 pages
Description
Consultant and long-time Food and Drug Administration (FDA) food labeling expert James Summers answers the many questions surrounding FDA food labeling regulations and compliance in Food Labeling Compliance Review. This comprehensive manual and fully searchable, accompanying CD-ROM are designed to aid in understanding the requirements of the FDA. Food Labeling Compliance Review is a must-have for regulatory officials, industry personnel, and others responsible for assuring that the label and labeling of domestic and imported food products in interstate commerce comply with the requirements of the Federal Food, Drug and Cosmetic Act, as amended.

The new fourth edition of Food Labeling Compliance Review fully covers recently enacted provisions requiring labeling for allergens, trans fats, and qualified health claims. Clearly illustrated with dozens of charts, sample label panels and 'Nutrition Facts' boxes, Food Labeling Compliance Review is the practical, no-nonsense tool needed by both the experienced and inexperienced food label reviewer.
Current, complete, and accurate food labeling guidance concerning FDA regulations
Covers new requirements for labeling allergens, trans fats, and qualified health claims
Essential for all food manufacturers, packers, labelers, relabelers, and distributors
Fully illustrated with clear Q and A explanations
Fully-searchable CD-ROM enables quick look ups
I. Introduction.
II. Overview of the History of Food Labeling.
III. Definitions.
IV. Changes in Food Labeling Regulations.
A. Ingredient Labeling.
B. Certified Color Additives.
C. Common or Usual Names for Nonstandardized Foods.
D. Standardized Foods.
E. Nutrition Labeling.
F. Descriptive Claims: Fresh, Freshly Frozen, Fresh Frozen, Frozen Fresh.
G. Other Noncertified Color Additives, and Spices and Flavorings.
H. Food and Drug Administration Modernization Act (FDAMA) of 1997.
V. Outline for Compliance Review.
A. Establish Jurisdiction.
B. Determine the Completeness and Accuracy of the Required Label Information.
C. Determine the Degree of Compliance with Applicable Regulations.
D. Advise Responsible Firm of Label(s) Needing Corrections.
VI. Compliance Label Review Program.
A. Identity Statement.
B. Designation of Ingredients.
C. Name and Place of Business.
D. Net Quantity of Contents Statements.
E. Nutrition Labeling.
F. Claims.
G. Special Labeling of Foods.
VII. Labeling of Foods in Special Categories.
VIII. Administrative Rules, Decisions and Special Labeling Requirements.
A. Salt and Iodized Salt.
B. Fresh, Freshly Frozen, Fresh Frozen, Frozen Fresh.
C. Natural.
D. Organic.
IX. Exemptions from FDA Requirements for Foods.
A. Procedures for Requesting Variations and Exemptions from Required Label Statements.
B. Exemptions from Required Label Statements.
C. Petitions Requesting Exemption from Preemption for State or Local Requirements.
D. Exemptions When it is Technologically Impractical to Nutrition Label.
E. Nutrition Labeling of Food: Exemptions/Special Labeling Provisions.
F. Food: Exemption from Labeling.
G. Temporary Exemption for Purposes of Conducting Authorizing Food Labeling Experiments.
H. Temporary Permits for Interstate Shipment of Experimental Packs of Food Varying from the Requirements of Definitions and Standards of Identity.
X. Compliance Provisions.
A. Failure to Reveal Material Facts.
B. Misleading Containers.
C. Food with a Label Declaration of Nutrients.
D. Food Subject to Nutrition Labeling.
E. Food: Prominence of Required Statements.
F. Misbranding of Food.
G. Substantial Compliance of Food Retailers with the Guidelines for the Voluntary Nutrition Labeling of Raw Fruits, Vegetables, and Fish.
XI. Special Food Issues.
A. Food Allergy.
B. Food Bioengineering.
C. Botanical and Other Novel Ingredients in Conventional Foods.
XII. Charts, Illustrations, Statements, Regulations.
XIII. Index to the January 6, 1993 Federal Register Preamble and Final NLEA Regulations.
XIV. Index to the August 18, 1993 Federal Register Preamble: Nutrition Labeling Technical Amendments.
XV. Table of Contents for Chapter 5 – Foods, Colors, and Cosmetics for the Compliance Policy Guide, DHHS, PHS, FDA, ORA, OF, DCP.
XVI. Table of Contents for Food Labeling Questions and Answers for Guidance to Facilitate the Process of Developing or Revising Labels for Foods Other than Dietary Supplements, U.S. DHHS, PHS, FDA, August 1993.
XVII. Table of Contents for Food Labeling Questions and Answers, Volume II, A Guide for Restaurants and Other Retail Establishments, U.S. DHHS, PHS, FDA, August 1995
"Designed to aid in understanding the FDA food labelling regulations."
International Food Information Service


Current, complete, and accurate food labeling guidance concerning FDA regulations

Covers new requirements for labeling allergens, trans fats, and qualified health claims

Essential for all food manufacturers, packers, labelers, relabelers, and distributors

Fully illustrated with clear Q and A explanations

Fully-searchable CD-ROM enables quick look ups