Foundations of Vacuum Science and Technology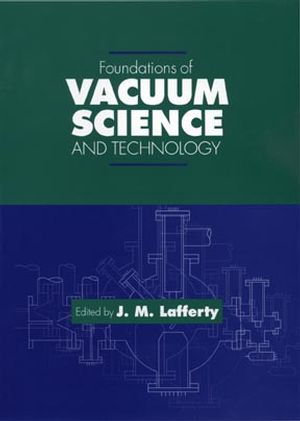 Foundations of Vacuum Science and Technology
ISBN: 978-0-471-17593-3 February 1998 760 Pages
Description
An indispensable resource for scientists and engineers concerned with high vacuum technology

Vacuum technology has evolved significantly over the past thirty years and is now indispensable to various fields of scientific research as well as the medical technology, food processing, aerospace, and electronics industries.

Foundations of Vacuum Science and Technology offers a comprehensive survey of the physical and chemical principles underlying the production, measurement, and use of high vacuums. It also provides a valuable critical survey of important developments that have occurred in the field over the past several decades.

Comprising contributions from many of the world's leading specialists in vacuum techniques, Foundations of Vacuum Science and Technology:
* Reviews the laws of kinetics, the principles of gas flow over a wide range of pressures, and the behaviors of both compressible and turbulent flows
* Features exhaustive coverage of vacuum pump technology, including liquid ring pumps, dry pumps, turbo pumps, getter pumps, and cryo pumps
* Describes leak detectors used in industry
* Examines all types of pressure measurement techniques, including the latest quadrupole mass spectrometer techniques for partial pressure analysis
* Explores the state of the art in calibration and standards.
Table of contents
Kinetic Theory of Gases.

Flow of Gases Through Tubes and Orifices.

Positive Displacement Vacuum Pumps.

Kinetic Vacuum Pumps.

Capture Vacuum Pumps.

Vacuum Gauges.

Partial Pressure Analysis.

Leak Detection and Leak Detectors.

High-Vacuum System Design.

Gas-Surface Interactions and Diffusion.

Ultrahigh and Extreme High Vacuum.

Calibration and Standards Appendix.

Indexes.