Gardening - Philosophy for Everyone: Cultivating Wisdom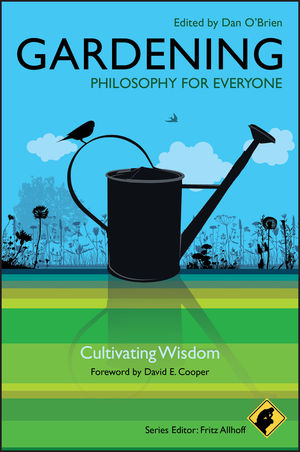 Gardening - Philosophy for Everyone: Cultivating Wisdom
ISBN: 978-1-444-33021-2
Sep 2010, Wiley-Blackwell
264 pages
Description
Philosophy and gardens have been closely connected from the dawn of philosophy, with many drawing on their beauty and peace for philosophical inspiration. Gardens in turn give rise to a broad spectrum of philosophical questions. For the green-fingered thinker, this book reflects on a whole host of fascinating philosophical themes.
Gardens and philosophy present a fascinating combination of subjects, historically important, and yet scarcely covered within the realms of philosophy
Contributions come from a wide range of authors, ranging from garden writers and gardeners, to those working in architecture, archaeology, archival studies, art history, anthropology, classics and philosophy
Essays cover a broad spectrum of topics, ranging from Epicurus and Confucius to the aesthetics and philosophy of Central Park
Offers new perspectives on the experience and evaluation of gardens 
Acknowledgements
(Dan O'Brien).
Foreword (David E. Cooper).
Planting the Seed: An Introduction to Gardening - Philosophy for Everyone (Dan O'Brien).
Part I: The Good Life
1 The Virtues of Gardening (Isis Brook).
2 Cultivating the Soul: The Ethics of Gardening in Ancient Greece and Rome (Meghan T. Ray).
3 Escaping Eden: Plant Ethics in a Gardener's World (Matthew Hall).
4 Food Glorious Food (Helene Gammack).
Part II: Flower Power
5 Plants, Prayers and Power: The Story of the First Mediterranean Gardens (Jo Day).
6 Brussels Sprouts and Empire: Putting Down Roots (Michael Moss).
7 Transplanting Liberty: Lafayette's American Garden (Laura Auricchio).
8 Cockney Plots: Allotments and Grassroots Political Activism (Elizabeth A. Scott).
Part III: The Flower Show
9 Hortus Incantans: Gardening as an Art of Enchantment (Eric MacDonald).
10 Gardens, Music and Time (Ismay Barwell and John Powell).
11 The Pragmatic Picturesque: The Philosophy of Central Park (Gary Shapiro).
Part IV: The Cosmic Garden
12 Illusions of Grandeur: A Harmonious Garden for the Sun King (Robert Neuman).
13 Time and Temporality in the Garden (Mara Miller).
14 Cultivating Our Garden: David Hume and Gardening as Therapy (Dan O'Brien).
Part V: Philosophers' Gardens
15 The Garden of the Aztec Philosopher-King (Susan Toby Evans).
16 Epicurus, the Garden, and the Golden Age (Gordon Campbell).
17 Gardener of Souls: Philosophical Education in Plato's Phaedrus (Anne Cotton).
Appendix A: Notes on Contributors.
"Intriguing ideas combined with a philosophical method of inquiry bring the benefits of gardening into the 21st century.  Gardening Philosophy for Everyone: Cultivating Wisdomproduces what the title suggests – it cultivates and grows the body of knowledge about gardening, exploring the value of gardening past and present for multiple disciplines."  (Journal of Therapeutic Horticulture, 1 November 2012)
"So pull up a chair, relax under a shady canopy and delve into the fascinating garden-related philosophies contained in this most interesting read." (Australian Horticulture, 1 March 2011)"A good mix of topics, ideas and arguments - a very good and meaty read." (Gardensandpeople.co.uk, 1 March 2011)
"Reading this book has been an experience so enchanting, that I am eager to revisit each of the essays, to re submerge myself in their expertise. If one is a gardener, this is a publication reserved for cold winter nights or long plane rides; for the non-gardener, it is an engaging private symposium. One might also call it "variations on a theme of gardening", enriched by diverse intellectual disciplines and unexpected perspectives of the contributing authors." (Gardenguru, 29 March 2011)
"Reading this book has been an experience so enchanting, that I am eager to revisit each of the essays, to re submerge myself in their expertise. If one is a gardener, this is a publication reserved for cold winter nights or long plane rides; for the non-gardener, it is an engaging private symposium. One might also call it "variations on a theme of gardening", enriched by diverse intellectual disciplines and unexpected perspectives of the contributing writers." (Bookpleasures.com, 26 March 2011)
"There's nothing too 'difficult' philosophically in this book, so definitely one for any thoughtful gardeners, philosophers or not." (Wittgenstein's Watering Can, 21 April 2011)
"Finally, we have a book which celebrates and examines the topic of gardens and gardening in a way that involves more than simply helping pick the perfect plant for your shady nook." (A Garden of Possibilities, 18 April 2011)
"The book is comprised of numerous essays by different authors, each with their own unique angle. I am very impressed that Permaculture is mentioned at least once by name, and hunter-gatherers, foragers, and horticulturalists, are discussed in many of the essays. Also, each author brings their own definition of gardening, and some of them are broad enough to include the most cutting edge forest gardens as well as many primitive peoples' land management techniques. Even the essays with a more narrow view of what a garden is had interesting thoughts of our interaction with plants and how that impacts us philosophically." (Nathan Carlos Rupley, 15 April 2011)
"Editor Dan O'Brien has assembled a collection of essays, among which are Mara Miller's reflections upon the many layers of time and change inherent in gardens, and the ways in which they affect persona experiences, which illuminate how these may play into design considerations". (Garden Design Journal, 1 April 2011)
"Gardening is not absent from philosophy; after all, Voltaire's Candide ends with the admonition to 'cultivate our garden.' This book examines how gardening is like philosophy and vice versa. Much space is also given to political philosophy and some fascinating explorations into the political and philosophical ramifications of historical gardening in London and Aztec Mexico. The series is likely to appeal to armchair philosophers and undergraduates alike, and this volume will give gardeners of an intellectual bent a philosophical justification for their hobby." (Library Journal, March 2011)
"A new book on the philosophy of gardening - edited by Dan O'Brien and Fritz Allhoff - has been written by and for the green-thumbed thinker, the practical gardener, the salad gardener, the architect, the archaeologist, and the artist at work among the ferns". (Horticulture Week, 12 January 2011)
"Either way, it is an engaging and enjoyable read, and readers of the ERB will certainly want to stay tuned for future volumes in this diverse - and apparently all-encompassing - series!". (Englewood Review of Books, 28 December 2010)
"Another essay takes a slightly different slant on Miller's theme, showing how gardens exist as patterns in time, just as music does. Overall, too many of these essays treat of the garden as a metaphor rather than as an actuality. But such books are rarely seen, and this one provides more than enough food for thought amid acres of identikit 'your kitchen-garden' and allotment books." (The Telegraph, 7 December 2010)