Global Executive Leadership Inventory (GELI), Participant Workbook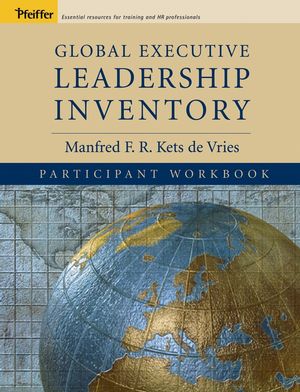 Global Executive Leadership Inventory (GELI), Participant Workbook
ISBN: 978-0-787-97416-9 January 2005 Pfeiffer 72 Pages
Description
If you are to survive in today's competitive environment, you must have the leadership skills that make you a valued member of your organization's leadership team.
Global Executive Leadership Inventory (GELI) is your in-depth development tool that offers guidance for understanding your leadership abilities and shows you how to take steps to improvement. The Inventory consists of 100 action- and behavior-based questions that are designed to measure your competency within twelve areas: Visioning, Empowering, Energizing, Designing and Aligning, Rewarding and Feedback, Team Building, Outside Orientation, Global Mindset, Tenacity, Emotional Intelligence, Life Balance, and Resilience to Stress. 
The Inventory includes an effective self-assessment tool as well as a 360-
degree component that allows you to obtain feedback from subordinates, colleagues, and superiors. Once the assessment is completed and scored, the Participant Workbook guides you through the feedback and helps to create a development plan.  As a result of the GELI process, when you complete this Workbook you will be able to
State advantages of and concerns about 360-degree feedback
Identify twelve key characteristics of successful global leaders
Evaluate your strengths and weaknesses on each of the twelve key characteristics
Develop an action plan that specifies what you will do to improve your leadership competencies
An ideal tool for examining your leadership behavior roadblocks and then taking steps toward improvement, the GELI will serve you as an essential resource on your leadership journey.
Table of contents
Global Leaders: A Definition 1
Objectives 3
360-Degree Feedback 5
Advantages of 360-Degree Feedback 5
Resistance to Feedback 6
The Feedback Process 7
Leadership Competencies 9
The Twelve Dimensions 11
Why You Can Trust the Results 15
First Impressions 17
The Johari Window 19
Points to Consider When Evaluating Your Feedback Report 21
Percentile Ranking Chart and Percentile Ranking Bar Chart 22
Item Ranking 23
Top 10 Disparities 24
Dimension Grids 24
Observers' Comments 28
Overall Evaluation 29
Developing a Personal Action Plan 31
Factors That Affect Action Plans 33
Recommendations for Action Planning and Development 35
Visioning 35
Empowering 36
Energizing 37
Designing and Aligning 37
Rewarding and Feedback 38
Team Building 38
Outside Orientation 39
Global Mindset 40
Tenacity 41
Emotional Intelligence 41
Life Balance 42
Resilience to Stress 43
Developmental Priorities 44
Completing the Letter of Intent 47
Change 49
Following Up 51
Readings/Resource List 53
About the Author 55