Globalization and Contemporary Art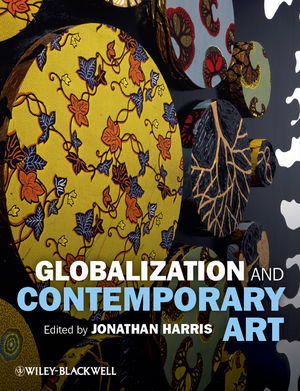 Globalization and Contemporary Art
ISBN: 978-1-405-17950-8 March 2011 Wiley-Blackwell 552 Pages
Download Product Flyer
Download Product Flyer
Download Product Flyer is to download PDF in new tab. This is a dummy description. Download Product Flyer is to download PDF in new tab. This is a dummy description. Download Product Flyer is to download PDF in new tab. This is a dummy description. Download Product Flyer is to download PDF in new tab. This is a dummy description.
Description
In a series of newly commissioned essays by both established and emerging scholars,
Globalization and Contemporary Art
probes the effects of internationalist culture and politics on art across a variety of media.
Globalization and Contemporary Art
is the first anthology to consider the role and impact of art and artist in an increasingly borderless world.
First major anthology of essays concerned with the impact of globalization on contemporary art
Extensive bibliography and a full index designed to enable the reader to broaden knowledge of art and its relationship to globalization
Unique analysis of the contemporary art market and its operation in a globalized economy
Table of contents
List of Illustrations.
Notes on Contributors.
Introduction: Globalization and Contemporary Art: A Convergence of Peoples and Ideas (Jonathan Harris).
Part 1: Institutions.
Introduction.
1 Real Time and Real Time at The Israel Museum, Jerusalem (Vivianne Barsky).
2 Peddling Time When Standing Still: Art Remains in Lebanon and the Globalization That Was (Walid Sadek).
3 Homogeneity or Individuation? A Long View of the Critical Paradox of Contemporary Art in a Stateless Nation (Peter Lord).
4 Museums in the Colonial Horizon of Modernity: Fred Wilson's Mining the Museum (1992) (Walter Mignolo).
5 Africus Johannesburg Biennale 1995: Butisi Tart? (Natasha Becker).
Part 2: Formations.
Introduction.
6 Post-Crisis: Scenes of Cultural Change in Buenos Aires (Andrea Giunta).
7 Evolution within the Revolution: The Afro-Cuban Cultural Movement and Cuban Art Collectives, 1975 to 2000 (Zoya Kocur).
8 Ka Muhe'e, He i'a Hololua: Kanaka Maoli Art and the Challenge of the Global Market (Herman Pi'ikea Clark).
9 Aboriginal Cosmopolitans: A Prehistory of Western Desert Painting (Ian McLean).
10 Working to Learn Together: Failure as Tactic (Judith Rodenbeck).
Part 3: Means and Forces of Production.
Introduction.
11 The Two Economies of World Art (Malcolm Bull).
12 The Spectacle and Its Others: Labor, Conflict, and Art in the Age of Global Capital (Angela Dimitrakaki).
13 Cultural Mercantilism: Modernism's Means of Production: The Gutai Group as Case Study (Ming Tiampo).
14 Audiovisionaries of the Network Planet (Sean Cubitt).
Part 4: Identifications.
Introduction.
15 Contemporary Asian Art and the West (David Clarke).
16 World Pictures: Globalization and Visual Culture (W. J. T. Mitchell).
17 Leaves of Grass and Real Allegory: A Case Study of International Rebellion (Albert Boime).
18 Collaboration in Art and Society: A Global Pursuit of Democratic Dialogue (Nikos Papastergiadis).
Part 5: Forms.
Introduction.
19 Globalization Questions and Contemporary Art's Answers: Art in Palestine (Khaled Hourani).
20 Political Islam and the Time of Contemporary Art (Amna Malik).
21 Displaced Models: Techniques and Tactics of Reproduction across the Genres and Institutions of Western Art from Duchamp to Doujak (Lewis Johnson0.
22 White Man Got No Dreaming: Indigenous Art, Apartheid and the Emergence of "Global Style" Painting in Australia (Jeanette Hoorn).
23 The Discourse of (L)imitation: A Case Study with Hole-Digging in 1960s Japan (Reiko Tomii).
Part 6: Reproduction.
Introduction.
24 Art and Postcolonial Society (Rasheed Araeen).
25 Why Art History is Global (James Elkins).
26 The Agency of the Historian in the Construction of National Identity in Colombian Architecture (Felipe Hernández).
27 Aboriginal Art and Australian Modernism: An Althusserian Critique (Darren Jorgensen).
28 Gesturing No(w)here (Nermin Saybasili).
Part 7: Organization.
Introduction.
29 The Emergence of Powerhouse Dealers in Contemporary Art (Derrick Chong).
30 The Art Market in Transition, the Global Economic Crisis, and the Rise of Asia (Iain Robertson).
31 Global Contemporary? The Global Horizon of Art Events (Charlotte Bydler).
32 "Institutionalized Globalization," Contemporary Art, and the Corporate Gulag in Chile (David Craven).
33 Culture, Neoliberal Development, and the Future of Progressive Politics in Southeastern Europe (Zhivka Valiavicharska).
Select Bibliography.
Illustration Credits.
Index.
Reviews
"Summing Up: Highly recommended. Upper-level undergraduates and above." (Choice, 1 November 2011)