Greenfields, Brownfields and Housing Development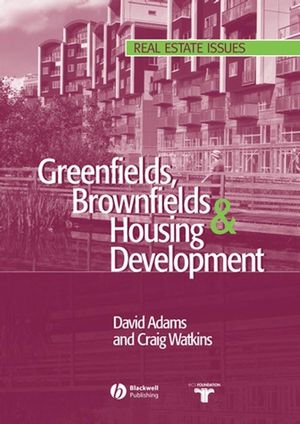 Greenfields, Brownfields and Housing Development
ISBN: 978-1-405-17246-2 May 2008 Wiley-Blackwell 314 Pages
Description
The location of new housing development has become one of the most intractable controversies of modern times. This book provides a powerful critique of the growing tendency to reduce the debate on the development of new housing to a mere choice between greenfield and brownfield locations. It calls for full account to be taken of such factors as the structure and organisation of the housebuilding industry, supply and demand pressures in the housing market, the contested nature of sustainability and the political character of the planning process if a truly effective housing land policy is to be devised.
Drawing on theories from economics and political science, this book will provide an important reference point on the institutional context within which residential development takes place and on the concerns of planning authorities, environmentalists, housebuilders, and their customers in relation to the apparent choice between greenfield and brownfield development.
Table of contents
Part 1:
THE POLICY CONTEXT - Introduction; The changing context of housing development; The sustainability of new housing development; The residential planning process;.
Part 2: MARKET, ECONOMIC AND POLITICAL CONTEXT - The speculative housebuilding industry; The politics of planning and housing development;.
PART 3 POLICY EVALUATION - Greenfield housing development; Brownfield housing development; The economics of planning and housing development; Conclusions and policy implications; Bibliography; Index
Reviews
David Fitzpatrick, Executive Director of the RICS Foundation, is supportive of the authors' conclusions:
"We welcome the government's proposed increase in the quantities of affordable housing, but would echo the findings of Greenfields, Brownfields and Housing Development in urging ministers to look closely at how solutions to housing shortages can become catalysts for increased local prosperity and improved quality of life".

"Overall Greenfields, Brownfields and Housing Development makes an excellent and timely contribution to debate in this field. The political - economic barriers to more compact forms of development are identified and the authors conclude that the state will need to play a more active role in the development process if a more sustainable form of housing development is to be achieved." Town Planning Review July 2003

'This book provides the reader with a very sound understanding of the way in which house builders, planners and all those with an interest in development are accommodating policy change since the mid 1990s. It draws on a wealth of research experience and provides a very useful mix of material....an important milestone' Journal of Housing and the Built Environment.

'I learned a lot from this book and it is important to anyone working or doing research in the field of contemporary housing development' European Planning Studies Vol 11, No 8
Features
* Analyses social, economic and political influences on public policy and private investment in relation to housing development
* Places current controversies on the location of new housing development within a strong institutional context
* Evaluates recent changes in the housebuilding industry and examines its capacity to switch production increasingly to brownfield development
* Explores how the concept of sustainable development provides both a common and contested discourse for debates on housing development
* Analyses greenfield and brownfield development potential and recent achievements
* Examines the financial and economic impact of housing land policies