Greening the Millennium?: The New Politics of the Environment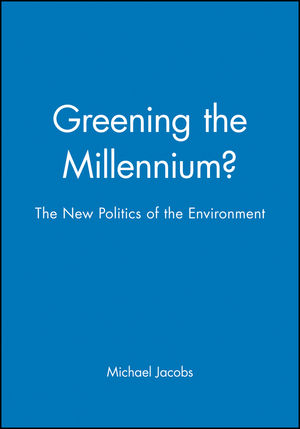 Greening the Millennium?: The New Politics of the Environment
ISBN: 978-0-631-20619-4
Jan 1998, Wiley-Blackwell
216 pages
Description
This collection of specially commissioned essays aims both to broaden understanding of environmental issues, and to explore their implications for politics. The book discusses the concepts of the 'risk society' and 'ecological modernisation', examines the relationship between science, public policy and democratic renewal, and analyses green politics in Germany, the Netherlands and the UK.
Introduction: Greening the Millennium? (Michael Jacobs).
Perspectives.
Global Risk Politics (Ulrich Beck).
Beyond Left and Right? Ecological Politics, Capitalism and Modernity. (Ted Benton).
The Quality of Life: Social Goods and the Politics of Consumption. (Michael Jacobs).
Environmental Politics: The Old and the New. (Jonathon Porritt).
Political Economy.
Ecological Modernisation. Restructuring Industrial Economies. (Andrew Gouldson and Joseph Murphy).
Interpreting Sustainable Development: The Case of Land Use Planning. (Susan Owens).
The Political Economy of Environmental Tax Reform. (Stephen Tindale).
Governance.
Environment, Risk and Democracy. (Robin Grove-White).
Responses.
Using Science. (Phyllis Starkey).
Making Environmental Policy. (Derek Osborn).
Local Agenda 21: The Renewal of Local Democracy? (Stephen Young).
Voluntary Associations and the Sustainable Society. (Bronislaw Szerszynski).
Public and Partoes.
Public Opinion and the Environment. (Robert Worcester).
Lessons from Europe.
Green Politics and Parties in Germany. (Detlef Jahn).
Greening and Ungreening the Netherlands. (Paul Lucardie).
Prospects: The Parties and the Environment in the UK. (Neil Carter).
Index
"
Greening the Millennium
edited by London School of Economics geographer Jacobs, more than lives up to its promise...
"I would recommend
Greening the Millennium
to students and academics in geography, environmental studies, sociology, and political science, as well as to politicians, planners, policymakers, and indeed anyone with an informed interest in 'the environment'."
B. Dodson, Queen's University
" This is one of the best assessments of the current state of the environmental debate and eco-politics in Britain which I have read for a long time! Jacobs brings together 17 top contributors from diverse backgrounds. Their analyses are competent, realistic and accessible and add up to a multi-dimensional overview...
" It is a major achievement of this volume that it picks up and critically reviews the major buzz-words, debates and strategies which currently dominate the eco-debate without reproducing either the presently widespread but arguably unjustified green optimism or the equally unjustified older eco-pessimism." Ingolfur Bluhdorn, University of Bath
* Important state of the art articles by well-known authors.
* Lucid new analyses of key concepts and ideas.
* Comprehensive coverage of environmental politics in the UK in a European context.