Guidelines for Process Safety Metrics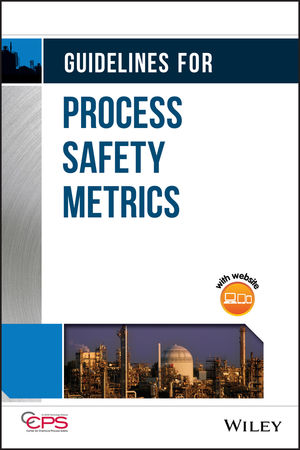 Guidelines for Process Safety Metrics
ISBN: 978-0-470-57212-2 November 2009 200 Pages
Description
Process safety metrics is a topic of frequent conversation within chemical industry associations.
Guidelines for Process Safety Metrics
provides basic information on process safety performance indicators, including a comprehensive list of metrics for measuring performance and examples as to how they can be successfully applied over both the short and long term. For engineers, insurers, corporate traininers, military personnel, government officials, students, and managers involved in production, product and process development,
Guidelines for Process Safety Metrics
can help determine appropriate metrics useful in monitoring performance and improving process safety programs.
Note: CD-ROM/DVD and other supplementary materials are not included as part of eBook file.
Cannot be combined with any other offers.
Table of contents
Items on The CD Accompanying This Book xi
Acronyms and Abbreviations xiii
Glossary xv
Acknowledgments xix
Preface xxi
INTRODUCTION 1

1.1 An Introduction to Process Safety and Metrics 1
1.2 Purpose of This Book 3
1.3 Key Audiences for the Guidelines 5
1.4 An Organization's Personnel Hierarchy 6
1.5 Organization of This Guideline 7
1.6 Using This Guideline 7
WHY IMPLEMENT PROCESS SAFETY METRICS 9

2.1 Preventing Process Safety Incidents 11
2.2 Benefits from Measuring Performance 13
2.3 Tracking Operational Performance and Process Safety Performance 16
2.4 Avoiding Complacency 17
2.5 Conclusion 17
PROCESS SAFETY MANAGEMENT METRICS 19

3.1 Metrics and the Process Safety Models 19
3.2 Other Metric Dimensions 24
3.3 Forms of Metrics 26
3.4 Characteristics of Good Metrics 27
3.5 Conclusion 30
CHOOSING APPROPRIATE METRICS 33

4.1 Process Safety Goals and Objectives 33
4.2. Define the Process Safety Goals 35
4.3 Define Process Safety Objectives 37
4.4 Develop the Metrics Strategy for Improving the Process Safety System 42
4.5 Select Metrics 46
4.6 Conclusion 51
IMPLEMENTING A METRICS PROGRAM 53

5.1 Management Support and Leadership 53
5.2 Develop an Implementation Strategy 53
5.3 Develop the Framework for the Metrics Implementation Strategy 56
5.4 Implementation Analysis 61
5.5 Prepare for Rollout 69
5.6 Rollout 72
5.7 Reevaluate Metrics Based Upon Experience 75
5.8 Conclusion 75
COMMUNICATING RESULTS 77

6.1 Communication Analysis 78
6.2 Select Appropriate Communication Characteristics 82
6.3 Report Appropriate Data to Different Audiences 85
6.4 Tools for Communicating Metrics 90
6.5 Conclusion 93
USING METRICS TO DRIVE PERFORMANCE IMPROVEMENTS 97

7.1 Identify Weaknesses and Deficiencies in Process Safety Performance 98
7.2 Leadership Commitment to Process Safety Performance 99
7.3 Hold Responsible Parties Accountable 99
7.4 Engage the Public 102
7.5 Conduct Periodic Management Reviews 103
7.6 Cultivate a Positive Process Safety Culture 105
7.7 Communicate Process Safety and Other Organizational Successes 107
7.8 Conclusion 108
IMPROVING INDUSTRY-WIDE PERFORMANCE 111

8.1 Performance Benchmarking 111
8.2 Metrics Allow Performance Comparisons for Multiple Parties 112
8.3 Sharing Data Across Industry Leads to Improved Performance 114
8.4 Conclusion 118
FUTURE TRENDS IN THE DEVELOPMENT AND USE OF PROCESS SAFETY METRICS 121

9.1 Improving Process Safety 121
9.2 Societal Interests 126
APPENDIX I: LISTING OF POTENTIAL PROCESS SAFETY METRICS TO CONSIDER (BASED ON THE RISK BASED PROCESS SAFETY ELEMENTS) 131
APPENDIX II: PROCESS SAFETY PERFORMANCE INDICATORS: BP CHEMICALS HULL CASE STUDY 163
APPENDIX III: NOVA CHEMICALS UNCONTROLLED PROCESS FIRE AND LOPC METRICS 171
INDEX 173