Handbook of Environmental Management and Technology, 2nd Edition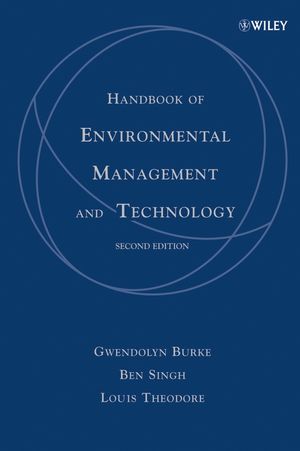 Handbook of Environmental Management and Technology, 2nd Edition
ISBN: 978-0-471-72237-3 January 2005 820 Pages
Description
Learn how to respond to the complex problems encountered in environmental management
Highlighting all aspects of the spectrum of environmental control, this text provides a historical perspective on pollution problems and solutions, and offers an introduction to the specialized literature in this and related areas. It includes:
Introduction to the issues
Air pollution management issues
Water pollution management issues
Solid and radioactive waste management issues
Hazardous waste management issues
Pollution prevention
Additional environmental concerns and management considerations
New technologies and approaches
Risk-related topics
Recent developments
Appendices
Cannot be combined with any other offers.
Table of contents
INTRODUCTION TO THE ISSUES.
Environmental Management Overview.
International Environmental Concerns.
Multimedia Analyses.
Regulatory Framework.
Mobile and Stationary Sources of Pollution.
AIR POLLUTION MANAGEMENT ISSUES.
Atmospheric Dispersion.
Air Pollution Control Equipment.
Greenhouse Effect and Global Warming.
Acid Rain.
Indoor Air Quality.
Noise Pollution.
WATER POLLUTION MANAGEMENT ISSUES.
Water Pollution Modeling and Control.
Municipal Wastewater Treatment.
Industrial Wastewater Treatment.
SOLID AND RADIOACTIVE WASTE MANAGEMENT ISSUES.
Municipal Waste Management.
Medical Waste Management.
Asbestos.
Used Oil.
Radioactive Waste Management.
HAZARDOUS WASTE MANAGEMENT ISSUES.
Hazardous Waste Incineration.
Small Quantity Generators.
Household Hazardous Waste.
Superfund.
Underground Storage Tanks.
Metals.
POLLUTION PREVENTION.
Pollution Prevention Approaches.
Domestic Solutions.
Waste Reduction.
Energy Conservation.
Architectural Considerations.
ADDITIONAL ENVIRONMENTAL CONCERNS AND MANAGEMENT CONSIDERATIONS.
Electromagnetic Fields.
Monitoring Methods.
Health and Safety.
Accident and Emergency Management.
Environmental Training.
Economic Considerations.
NEW TECHNOLOGIES AND APPROACHES.
Bioremediation.
Soil Vapor Extraction.
Biofiltration.
RISK RELATED TOPICS.
Risk-Based Decision Making.
Environmental Risk Assessment.
Health Risk Assessment.
Hazard Risk Assessment.
Environmental Communication.
RECENT DEVELOPMENTS.
ISO 14000.
Environmental Audits.
Environmental Ethics.
Environmental Justice.
Appendices.
Index.