Health Behavior Change in the Dental Practice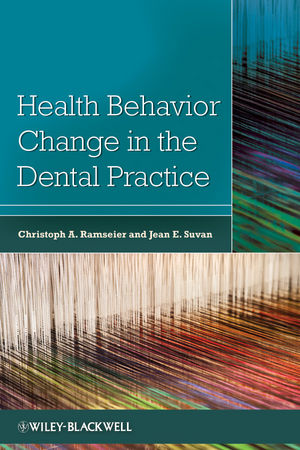 Health Behavior Change in the Dental Practice
ISBN: 978-0-813-82106-1 September 2010 Wiley-Blackwell 196 Pages
Description
Health Behavior Change in the Dental Practice presents an overview of health behavior change, focusing on the spirit of motivational interviewing. Targeting the clinical application of the principles, the book applies lessons learned from the field of general and behavioral medicine to the dental practice. By presenting a series of clinical examples and accompanying dialogue, the book guides the reader in using motivational interviewing techniques as tools for oral hygiene education, tobacco use cessation, and dietary counseling. Health Behavior Change in the Dental Practice supports the trend towards risk management in oral health care, offering practical guidance to promote health behavior change in patients.
Table of contents
Foreword
Preface
List of Contributors
1. Introduction to Health Behavior Change for the Dental Practice
Health Care in the Twenty-first Century
The Opportunity in the Dental Setting
Adop tion and Integration of Health Behavior Change
The Role and Responsibility of the Dental Professional
Collaborative Care Toward Whole Health
References
2. The Challenge of Behavior Change
Introduction
Behavior Change: Some Key Concepts
The Patient's Perspective
The Clinician's Perspective
Understanding Health Behavior Change
Social Cognitive Theory and Self-Efficacy Theory
The Health Belief Model
Theory of Planned Behavior
The Transtheoretical Model of Behavior Change
Self-Determination Theory
Summary
References
3. Communication and Health Behavior Change Counselling
Introduction
The Relationship between the Clinician and the Patient
Styles of Communication
Directing
Following
Guiding
Key Skills for Communicating about Health Behavior Change
Question 1: Is the patient happy to talk with you about behavior change?
Question 2: How are you asking questions?
Question 3: How do you provide support?
Question 4: How do you convey understanding?
Question 5: How do you get information across?
Question 6: How do you bring it all together?
Summary
Acknowledgments
References
4. Motivational Interviewing (MI) and Its Basic Tools
Introduction
What Is Motivational Interviewing?
Research Evidence for MI
What Triggers Behavior Change?
Motivation and the Clinician-Patient Relationship
Definition of MI
"Spirit" of MI
Major Principles
Express Empathy
Develop Discrepancy
Roll with Resistance
Support Self-Efficacy
OARS: Basic Tools for Building Motivation to Change
Use Open-Ended Questions
Affirm Patients
Use Reflective Listening
Use Summaries
Elicit Change Talk
Evocative Questions
Decisional Balance or Pros and Cons Matrix
The Importance Ruler
Elaborating, Querying Extremes, and Looking Back and Forward
Exploring Goals and Values
Responding to Change Talk
Responding to Resistance
Enhancing Confidence
Strengthening Commitment
Negotiating a Plan for Change
Summary
References
5. Brief Interventions in Promoting Health Behavior Change
Introduction
Using a Patient-Centered Approach
Righting Reflex
Goals of Brief Interventions
Assessing Motives
Health History Form
Open-Ended Questions
Readiness Scales
Raising Awareness
Giving Information versus Raising Awareness
Conveying Understanding
Supporting Change
Encouraging Patient Problem Solving
Offering a Set of Strategies
Planning for the Change
Use of the Telephone for Brief Interventions
Use of Computers for Brief Interventions
Giving Brief Advice
When Brief Interventions Are Not Appropriate
Bringing It All Together
Summary
References
6. Implementation of Health Behavior Change Principles in Dental Practice
Introduction
Content of Change (the Objectives)
Context of Change (the Environment)
Process of Change (the Implementation Plan)
Micro-Environment: The Dental Visit
Easier than You Think
Patient Activation Fabric for the Dental Visit (Implementation Model)
"Your Patient Is Here,"
Single Behavior Patient Scenario
Multiple Behavior Patient Scenario
Macro-Environment: The Practice Setting
Importance of Support
Overcoming Potential Obstacles to Practice Implementation
Practical Guidance for Beginners (or Non-Beginners)
Summary
References
7. Health Behavior Change Education
Introduction
History of Medical and Dental Education
In Medicine
In Dentistry
In Dental Hygiene
Currents Trends in Dental Care and Education
The Need for Change in Dental Education
Public Health Goals and Responsibilities
New Educational Initiatives and Methods
Theoretical Education
Pathology and Epidemiology of Diseases
Behavior as a Determinant of Health and Disease
Practical Education
Students
Continuing Education
Clinicians
Assessment of Health Behavior Change Education
Faculty
Students
Clinicians
Summary
References
Index
What's New
Applies motivational interviewing techniques directly to dentistry
Provides a workable strategy for health behavior change in the dental practice
Focuses on improving clinician-patient communication skills for the best treatment outcomes
Draws on examples from everyday practice
Provides a thorough review of supporting literature