Helen of Troy: From Homer to Hollywood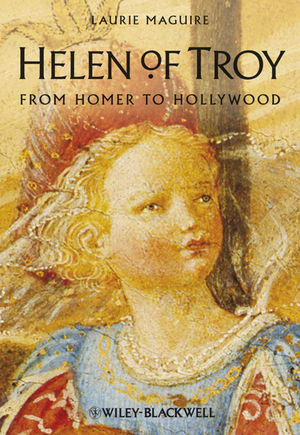 Helen of Troy: From Homer to Hollywood
ISBN: 978-1-405-12635-9 April 2009 Wiley-Blackwell 280 Pages
Description
Helen of Troy: From Homer to Hollywood is a comprehensive literary biography of Helen of Troy, which explores the ways in which her story has been told and retold in almost every century from the ancient world to the modern day.
Takes readers on an epic voyage into the literary representations of a woman who has wielded a great influence on Western cultural consciousness for more than three millennia
Features a wide and diverse variety of literary sources, including epic, drama, novels, poems, film, comedy, and opera, and works by Homer, Euripides, Chaucer, Shakespeare
Includes an analysis of a radio play by the prize-winning author of The Curious Incident of the Dog in the Night-time and a Faust play by a contemporary Scottish playwright
Explores themes such as narrative difficulties in portraying Helen, how legal history relates to her story, and how writers apportion blame or exculpate her
Considers the aesthetic and narrative difficulties that ensue when literature translates myth
Cannot be combined with any other offers.
Cannot be combined with any other offers.
Table of contents
List of Illustrations
Preface
Source Acknowledgments
Conventions
Introduction: Ab ovo
Beginnings
Stories and Contexts
1. Narrating Myth
Whose Story?
Absence
Fragments and Narrative
Closure The Textual Shudder
Myth and Repetition
Origins
Myth and Meaning
Causes
(En)Closure
2. Beauty
Excess and Deficiency
Narrating the Absolute
Staging the Absolute
Detailing Helen
The Beauty Effect
Helen's Breasts
Androgyny
Helen's Scar
Relativizng the Absolute
Helen and Old Age
Beauty: Subjectivity and Objectivity
Beauty and Nostalgia
3. Abducting Helen
Missing Moments
Homer, the Iliad
Herodotus, the Histories
Chaucer and Narrative Gaps
Helen and Cressida
The Law's Resolution of Women's Rights (1632)
Statute Change in 1597
The Rape of Lucrece (1594)
Helen (of Troy)
Rape as Revenge
4. Blame
Accounts
Casting Blame: Helen, Paris, and the Gods
Sidestepping Blame: Sympathy in the Iliad
Competing Narratives: the Odyssey
"Twisting Eulogy/And Censure Both Together"
Voicing Helen: Euripides
Helen Among the Sophists
Agency (1): Joseph of Exeter
Agency (2): Middle English Troy Books
George Peele, The Tale of Troy (1589)
Deifying Helen: John Ogle, The Lamentation of Troy (1594)
Mimetic Desire, the Scapegoat, and Blasphemy
Naming and Shaming
5. Helen and the Faust Tradition
Form and Appearance in the English Faust Book
Helen in the English Faust Book
Dr Faustus and Language
Dr Faustus and Boundaries
Goethe (1749–1832) Goethe and Representation
Goethe and the Beauty of Language
The Face that Launched a Thousand Ships
Jo Clifford (1950– )
Clifford's Helen and Gender Politics
6. Parodying Helen
Comedy
The Novel
Caribbean Helen: Derek Walcott, Omeros (1990)
Notes
References
Index
Reviews
"Overall, Maguire's book is a remarkably broad literary study of the complex and recurring figure of Helen of Troy. Her work is both comprehensive and detailed, covering a huge body of material both ancient and modern." (International Journal of the Classical Tradition, 2011)
"Maguire's book is an unusually effective study of something often invoked in an airy sort of way but difficult to represent concretely and cogently: literature and related arts as an ongoing and continuously motivated enterprise, sometimes almost collective in its workings across great stretches of time." (Translation & Literature, 2010)
"M.'s survey is impressively broad in scope ... .An impressive achievement." (The Classical Journal, February 2010)
"Erudite and entertaining ... .We are certainly better equipped to understand the phenomenon of such a mysterious narrative lacuna by the end of Maguire's inspirational book." (The Times Literary Supplement, November 2009)
"Combining wit, learning, and insight, Maguire offers delightful reading both for the specialist and for the serious general reader." (Library Journal, May 2009)
Features
Takes readers on an epic voyage into the literary representations of a woman who has wielded a great influence on Western cultural consciousness for more than three millennia
Features a wide and diverse variety of literary sources, including epic, drama, novels, poems, film, comedy, and opera, and works by Homer, Euripides, Chaucer, Shakespeare
Includes an analysis of a radio play by the prize-winning author of The Curious Incident of the Dog in the Night-time and a Faust play by a contemporary Scottish playwright
Explores themes such as narrative difficulties in portraying Helen, how legal history relates to her story, and how writers apportion blame or exculpate her
Considers the aesthetic and narrative difficulties that ensue when literature translates myth