Heroes and Philosophy: Buy the Book, Save the World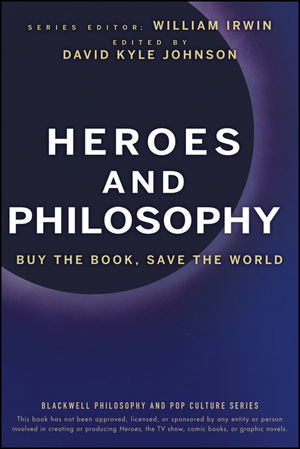 Heroes and Philosophy: Buy the Book, Save the World
ISBN: 978-0-470-37338-5 August 2009 320 Pages
Description
The first unauthorized look at the philosophy behind Heroes, one of TV's most popular shows
When ordinary individuals from around the world inexplicably develop superhuman abilities, they question who they are, struggle to cope with new responsibilities, and decide whether to use their new power for good or for evil. Every episode of Tim Kring's hit TV show Heroes is a philosophical quandary. Heroes and Philosophy is the first book to analyze how philosophy makes this show so compelling. It lets you examine questions crucial to our existence as thinking, rational beings. Is the Company evil, or good? Does Hiro really have a destiny? Do we? Is it okay to lie in order to hide your powers or save the world? Heroes and Philosophy offers answers to these and other intriguing questions.
Brings the insight of history's philosophical heavyweights such as Plato and Nietzche to Heroes characters and settings
Adds a fun and fascinating dimension to your understanding of the show
Expands your thinking about Heroes as the series expands from graphic and text novels to action figures and a video game
Whether you're new to Heroes or have been a fan since day one, this book will take your enjoyment of the show to the next level.
Introduction: The Wonder of Heroes.
PART ONE: HEROIC OBLIGATIONS.
Chapter 1: Above the Social Contract? How Superheroes Break Society (Robert Sharp).
Chapter 2: Heroes, Obligations, and The Ethics of Saving the World (J.K. Miles).
Chapter 3: Corporate Capers: The Moral Dimensions of Working for The Company (Christopher Robichaud).
Chapter 4: With Great Creativity Comes Great Imitation: Problems of Plagiarism and Knowledge (Jason Southworth).
PART TWO: SUPERMEN, SAMURAI, AND INVISIBLE MEN.
Chapter 5:Time and the Meaning of Life in Heroes and Nietzsche (Tyler Shores).
Chapter 6: Hiro Nakamura, Bushido, and Hero-Archetypes (Erik Daniel Baldwin).
Chapter 7: Plato on Gyges' Ring of Invisibility: The Power of Heroes and the Value of Virtue (Don Adams).
PART THREE: METAPHYSICS, REGULAR-PHYSICS, AND HEROIC TIME TRAVEL.
Chapter 8: The Foreknowledge of a Painter, The Fate of a Hero (David Kyle Johnson).
Chapter 9: Time to be a Hero: Branching Time and Changing the Future (Morgan Luck).
Chapter 10: Heroes and the Ethics of Time Travel: Does the Present Matter (David Faraci).
Chapter 11: The Physics of Heroes: Immortal Samurais, Flying Men, and Destroying the Space-Time Continuum (Andrew Zimmerman Jones).
Chapter 12: Pseudoscience, Scientific Revolutions, and (Chandra Suresh, David Kyle Johnson and Andrew Zimmerman Jones).
PART FOUR: THE MINDS OF HEROES.
Chapter 13: Peter Petrelli, The Haitian and the Philosophical Implications of Memory Loss (Peter Kirwan).
Chapter 14: Understanding Other Minds: Philosophical Foundations of Heroes Mindreading Powers (Fabio Paglieri).
Chapter 15: Peter Petrelli: The Power of Empathy (Andrew Terjesen).
PART FIVE: VILLAINS, FAMILY AND LYING.
Chapter 16: Are the Heroes Really Good (Peter S. Fosl)?
Chapter 17: Heroes and Family Obligations (Ruth Tallman and Jason Southworth).
Chapter 18: Concealment and Lying: Is this any way for a Hero to act (Mike Berry)?
Contributors: Our Heroes.
Chandra Suresh's List: a catalogue of powers, both natural and synthetic.
Index: the power of omniscience (about this book).