How to Have a Great Life: 35 Surprisingly Simple Ways to Success, Fulfillment and Happiness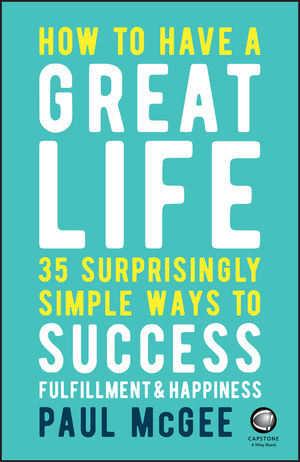 How to Have a Great Life: 35 Surprisingly Simple Ways to Success, Fulfillment and Happiness
ISBN: 978-0-857-08777-5 June 2018 Capstone 264 Pages
Description
35 ways to success, fulfillment, and happiness
How to Have a Great Life starts with you–your strengths and amazing potential and how to develop those. It helps you understand how to tap into your ability to grow, while equipping you with insights, inspiration, and practical tools to deal with whatever life throws your way in order to achieve success and live a happy and fulfilled life.
You already have many of the tools you need to succeed–you just need to know which ones to use and how best to use them. With no-frills, funny, and emotionally intelligent advice, Paul McGee will make you think, make you laugh, and make you take action to live your greatest life possible.
Tap into your ability to grow
Find insight and practical tools to deal with whatever life throws your way
Slow down and live a more balanced life
Re-gain time and brain space
Improve the quality of your relationships with others
We are living faster and more frantic lives than ever before—and there's no time like the present to catch your breath and live your best life possible.
Introduction – Make Sure You Read This
1. Don't Take Miracles for Granted
2. Make Peace with Paradox
3. Remember You're OK
4. Follow the Safety Announcements
5. Quit Playing the Game You'll Never Win
6. Live Life on Purpose
7. Are You Failing Any of the 7 Cs?
8. Tattoo This on Your Torso
9. Molehills Matter ... Massively
10. Why Fear Isn't Always Your Enemy
11. Don't Leave Your Dreams in the Bin
12. Your Past is not Your Prison
13. Struggles Can Strengthen You
14. Have the Courage to Quit ... Sometimes
15. Wallowing is OK … for a While
16. Not All Worries Are Worthless
17. Dethrone the Drama Queen
18. Get Things in Perspective
19. Never Underestimate the Power of Pause
20. Hang Out With Humility
21. How to Avoid Burnout and a Break-up
22. Two People You Need in Life
23. Prune Back the Happy Clappy Tree Sometimes
24. Don't be a TOAT
25. Not Everyone Drinks Whisky
26. Don't Wait for Somebody's Funeral
27. Please Resign from This Job
28. A Crucial Formula You Need to Know
29. A Fool-proof Way to Avoid Criticism
30. You Won't be Mates with Everyone
31. Manage Your Mental Diet
32. Beware the Curse of Comfort
33. Flex for Success
34. Show Some Leadership
35. Take Your Talk for a Walk
Now it's Over to You
Acknowledgements
About Paul McGee
Other Books by Paul McGee
Want Paul to Speak for Your Organization?