Hybrid Teaching and Learning: New Directions for Teaching and Learning, Number 149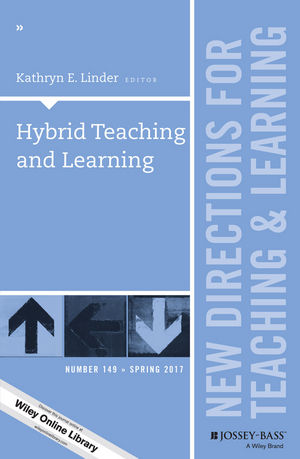 Hybrid Teaching and Learning: New Directions for Teaching and Learning, Number 149
ISBN: 978-1-119-37646-0 March 2017 Jossey-Bass 128 Pages
Download Product Flyer
Download Product Flyer
Download Product Flyer is to download PDF in new tab. This is a dummy description. Download Product Flyer is to download PDF in new tab. This is a dummy description. Download Product Flyer is to download PDF in new tab. This is a dummy description. Download Product Flyer is to download PDF in new tab. This is a dummy description.
Description
Hybrid, or blended, classrooms are expanding on campuses across the United States (and internationally). Intentionally combining in-class instruction with online activities not only aids student learning, it also provides more self-directed, technology-mediated learning experiences for students who will incorporate technology into their professional lives post-college.

In addition to explaining and defining the phenomenon of hybrid teaching and learning, this volume answers:
• What is hybrid teaching and learning?
• How does it promote student learning?
• Why should faculty and administrators consider it?
• How are its components different from traditional classrooms?
• What are the best practices of hybrid course design?
• How can instructors incorporate accessibility into their hybrid courses?
• What models can be used to train faculty as hybrid teachers?
• Where is it being practiced?
• How can institutions best prepare students for and promote their success in hybrid courses?
• Who should be involved in implementing and supporting these initiatives at the institutional level?

This is the 149th volume of this Jossey-Bass higher education series. It offers a comprehensive range of ideas and techniques for improving college teaching based on the experience of seasoned instructors and the latest findings of educational and psychological researchers.
Table of contents
Editor's Note 7
Kathryn E. Linder
1. Fundamentals of Hybrid Teaching and Learning 11
Kathryn E. Linder
This chapter provides definitions and distinguishing characteristics of the various terms used in the context of hybrid education. The author also offers an overview of the recent literature on hybrid teaching and learning.
2. Evaluating the Outcomes and Impact of Hybrid Courses 19
Patsy D. Moskal
This chapter examines the importance of evaluating hybrid courses for their impact on faculty, students, and the institution. Research on best practices in hybrid courses will be discussed.
3. Hybrid Platforms, Tools, and Resources 27
Kathryn E. Linder, Linda S. Bruenjes, Sarah A. Smith
This chapter discusses common tools and resources for building a hybrid course in a higher education setting and provides recommendations for best practices in using Learning Management Systems (LMSs) and Open Educational Resources (OERs).
4. Assessing Student Learning in Hybrid Courses 37
Traci Stromie, Josie G. Baudier
This chapter presents a framework for thinking about hybrid assessment that is aligned with course goals and learning objectives and that utilizes the online environment to provide students with frequent formative feedback and evaluation.
5. Training Faculty to Teach in Hybrid Settings 47
Kathryn E. Linder
Based on the author's experiences developing and implementing a multiweek hybrid course design institute, this chapter outlines the components of training—both andragogical and technological—most helpful for faculty who are planning to teach a hybrid course.
6. Hybrid Learning at the Community College 59
Jason Snart
This chapter discusses how the community college represents a potentially ideal educational setting for hybrid learning to thrive. The multimodal nature of hybrids, combining both online and face-to-face learning, affords the opportunity to engage students in a variety of ways. Further, many community college students can benefit from the flexibility offered by the hybrid model. At the same time, however, underprepared and first-generation college students, many of whom depend on the community college's open access mission, can still take advantage of the face-to-face support available in the hybrid format.
7. Collaborations Among Diverse Support Areas for Hybrid Success 69
Faye Haggar, Bruce Kelley, Weichao Chen
This chapter defines the various roles of professional developers who can assist with the design and implementation of hybrid courses and programs, and offers examples of the different Institutional structures where collaborations among these positions can take place to help support faculty and students in hybrid settings.
8. Preparing Students for Success in Hybrid Learning Environments with Academic Resource Centers 79
Daniel Newman, Michael Dickinson
This chapter describes institutional and andragogical best practices for preparing students to succeed in hybrid courses through the programming of academic resource centers, offers information on how to create peer support systems for students, and outlines some of the common pitfalls for students encountering a hybrid course for the first time.
9. Accessibility Considerations for Hybrid Courses 89
Kirsten Behling
This chapter explores the central questions and issues that faculty and administrators need to consider when designing and implementing hybrid courses to ensure that all students, including those with disabilities, have equal access. The author offers resources on faculty development programs, accessibility checklists, and online resources on universal design that can be applied at a range of campuses. Institutional guidelines around choosing accessible platforms and online learning tools will be shared.
10. Creating an Online Presence for Hybrid Support 103
Darin Jerke, Eric Mosterd
This chapter explores the web presence needed for faculty, students, administrators, and staff as hybrid courses are implemented at the institutional level and discusses the physical presence (office(s) and staff) needed to effectively provide and sustain online support for hybrid education.
11. Supporting Institutional Hybrid Implementations 111
Thomas B. Cavanagh, Kelvin Thompson, Linda Futch
This chapter explores the institutional resources, staffing, and policies needed to successfully launch, implement, and sustain hybrid teaching and learning courses and programs.
Index 121