Infection: Microbiology and Management, 3rd Edition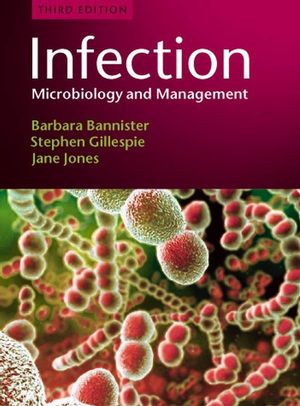 Infection: Microbiology and Management, 3rd Edition
ISBN: 978-1-444-32393-1 December 2009 Wiley-Blackwell 560 Pages
Description
Infection: Microbiology and Management
provides a core resource for the understanding of medical microbiology and infectious diseases. Content covers microbiological and clinical diagnosis, through to clinical management, epidemiology and the control of infectious conditions as they occur both in the hospital and community setting.
With a concise, systems-based approach, the third edition has been revised and restructured and now covers wider epidemiological and public concerns. Key feature boxes, self assessment and case studies assist learning in each chapter.

Designed to be used either as a basic learning text, or as a practical textbook in the clinical setting, Infection: Microbiology and Management, previously titled Infectious Disease, will continue to appeal to students at all stages of their career, candidates for higher examinations, the general physician and surgeon, epidemiologists and experts in public health.
Table of contents
Part 1: Infection, Pathogens and Antimicrobial Agents
.
1 The Nature and Pathogenesis of Infection.
2 Structure and Classification of Pathogens.
3 Laboratory Techniques in the Diagnosis of Infection.
4 Antimicrobial Chemotherapy.
Part 2: Systematic Infectious Diseases.
5 Infections with Skin, Mucosal and Soft-tissue Disorders.
6 Upper Respiratory Tract Infections.
7 Lower Respiratory Tract Infections.
8 Gastrointestinal Infections and Food Poisoning.
9 Infections of the Liver.
10 Infections of the Urinary Tract.
11 Childhood Infections.
12 Infections of the Cardiovascular System.
13 Infections of the Central Nervous System.
14 Bone and Joint Infections.
Part 3: Genital, Sexually Transmitted and Birth-Related Infections.
15 Genital and Sexually Transmitted Diseases.
16 HIV Infection and Retroviral Diseases.
17 Congenital and Perinatal Infections.
Part 4: Disorders Affecting More than One System.
18 Tuberculosis and Other Mycobacterial Diseases.
19 Bacteraemia and Sepsis.
20 Pyrexia of Unknown Origin.
21 Post-infectious Disorders.
Part 5: Special Hosts, Environments and the Community.
22 Infections in Immunocompromised Patients.
23 Hospital Infections.
24 Travel-associated and Exotic Infections.
25 Control of Infection in the Community.
26 Emerging and Re-emerging Infections.
Index
Reviews
"This book explains the nature, diagnosis and management of infection in a more comprehensive manner than standard clinical textbooks. It makes good links between pathology and clinical features...if you are thinking about buying a microbiology textbook, this is one of the better ones. It doesn't skimp on detail but still keeps your attention. Considering the amount of microbiology in exams, I would recommend a thorough one, like this." Northwing, Sheffield Medical Student's Magazine
Features
Classic, practical learning text for the contemporary curriculum


Restructured and re-titled to follow contemporary clinical approaches


Systems-based approach covers wider epidemiological and public concerns


Full colour with pedagogical features to support learning and revision


Illustrative case studies for each chapter