Information Technology for Management: Improving Strategic and Operational Performance, 8th Edition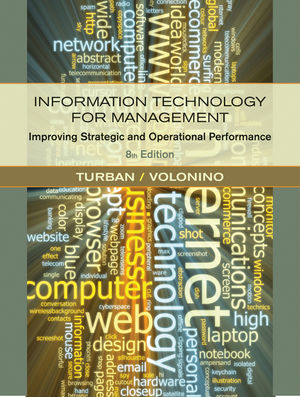 Information Technology for Management: Improving Strategic and Operational Performance, 8th Edition
ISBN: 978-0-470-91680-3
480 pages
Product not available for purchase
Description
A major revision of a highly respected text that has sold over 250,000 copies, this book teaches that the major role of IT is to provide enterprises with strategic advantage by facilitating problem solving, increasing productivity and quality, improving customer service, enhancing communication and collaboration, and enabling business process restructuring.

By taking a practical, managerial-oriented approach, the book demonstrates how IT is a critical success factor in enterprise operations and critical to their survival. Designed for all business majors, this book covers the basic tools and technologies, as well as emphasizing innovative uses of technology. Integrated throughout is how IT, including the use of social computing, mobile computing, the Web, intranets, etc, changes how business is done in almost all enterprises.
Part I Understanding Information Systems that Support Organizational Performance
1 Information Systems in the 2010s 1
2 IT Infrastructure and Support Systems 30
Part II Data and Network Infrastructure
3 Data, Text, and Document Management 56
4 Network Management and Mobility 91
5 IT Security, Crime, Compliance, and Continuity 120
Part III Web, Wireless, and Social Media Strategies
6 E-Business and E-Commerce 156
7 Mobile Computing and Commerce 189
8 Web 2.0 and Social Media 218
Part IV Operational and Enterprise Systems and Processes
9 Operational Planning and Control Systems 255
10 Enterprise Information Systems 284
11 Business Intelligence and Decision Support 322
Part V Managing IT, Business Processes, and Social/Ecology Responsibility
12 IT Strategic Planning 359
13 Business Process Management and Systems Development 390
14 Global Ecology, Ethics, and Social Responsibility 417
Glossary G-1
Technology Guides Online at www.wiley.com/college/turban
Cases Online at www.wiley.com/college/turban
Thoroughly rewritten and streamlined text – The new co-author has dramatically streamlined and smoothed the flow throughout the text, reducing the density of the coverage and the number of topics covered.
Simplified presentation – The book includes fourteen printed chapters, five online Tech Guides, and 23 online cases. All online material from the former editions has been integrated into the printed chapters as appropriate or deleted.
NEW coverage of "how to do" things and explanation at both the operational and strategic levels so students are exposed to both sides.
NEW Analysis Using Spreadsheets activity in every chapter requires students to do intriguing and challenging hands-on work; for example, gathering and analyzing information from websites.
NEW Nonprofit Case in every chapter provides a wide range of issues for students to address.
NEW in-depth coverage of cutting edge topics like IT governance, connectivity blurring public and private lives, sustainability, enterprise social media, and viral and social marketing.
NEW chapter on social networks and the Web 2.0 environment.
Media Resource Library – provides links to videos, animations, cases, and other web resources to help engage students in IT. Each Media Resource includes lecture lead-ins, class discussion questions, and assessment questions.
Comprehensive, authoritative, up-to-date coverage with more examples than other MIS texts.
Global Perspective — Completely revised chapter on global information systems.
Solid Theoretical Backing — foundations ranging from Moore's Law to Porter's competitiveness models, including his latest e-strategy adaptation.