Innovations in Professional Education for Speech and Language Therapy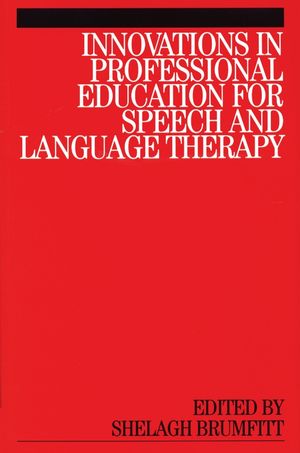 Innovations in Professional Education for Speech and Language Therapy
ISBN: 978-1-861-56385-9 October 2003 210 Pages
Description
The methods by which a student becomes a speech and language therapist have developed since the 1970s and have been influenced by different models of higher and professional education. Although it is comparatively easy to change an aspect of course content, for example to increase the number of learning hours on autism, the means by which the student learns to become a competent professional in practice are more complex.
This text discusses some of the exciting ways we are examining issues in professional education. It covers actual content (for example the introduction of dysphagia to the curriculum), new methods for learning (problem-based learning and information technology developments), how speech and language therapists develop competence and what is critical in the transition to becoming a qualified therapist. The longstanding placement problem is addressed by innovative work using different professional learning models, such as peer placements and school-based placements. The reader is provided with detailed practical advice about how to approach these models.
The book represents some of the current work in universities and speech and language services in the UK and reveals the creativity and commitment to an expanding subject area.
Table of contents
Perspectives in Professional Education,
Part One.
Aspects of The process.
Education for Competent Speech and Language Therapy Practice.
Case based Problem Solving for Speech and Language Therapy Students.
Peer placements.
The Transition From Speech and Language Therapy Students to qualified Professional.
Part Two.
Fit for Practice.
New Models for Clinical placement.
Approaches to Teaching Dysphagia to Speech and Language Therapy students.
Part Three.
Information Technology.
Developments and Applications.
Getting Professional Education Online.
Case Based Teaching and Clinical reasoning.
Seeing how Students Think With Patsy.
Index.