Interiors for Under 5s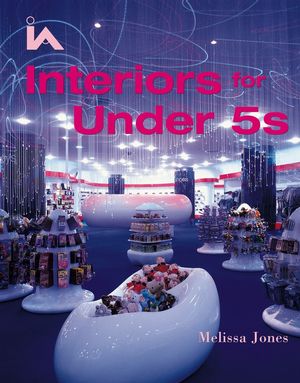 Interiors for Under 5s
ISBN: 978-0-470-09332-0 February 2005 216 Pages
Description
Childhood is undergoing a revolution.  The philosophy of bringing up children as separate from adults is a thing of the past.  In pre-schools, more and more attention is being paid to designing spaces that accommodate the very young and meet their needs in a way that fosters dialogue and communication.  When it comes to home life, busy parents want to spend free time with their children that they will both enjoy.  Children are no longer just tagging along and fitting in, they are being provided for with spaces that are stimulating, fun, imaginative, peaceful, or just plain practical.  Children are no longer adults in waiting – they have their own culture, and contemporary children's interiors are very much about defining the way childhood is being designed in the twenty-first century.
This book showcases a wide variety of interiors designed for the very young from around the world.  These range from creches, nurseries and preschools, to museums, restaurants, bedrooms, playspaces, shops and hotels.  Each architect or designer has given considerable thought to making their space – whether public or private - workable and beautiful, and their approaches are inspirational.  If you are looking for design ideas, or just want somewhere great to take your child at the weekend, this is the book for you.
Table of contents
Photo Credits.
Introduction.
LEARNING.
Introduction.
Jubilee School, Tulse Hill, London.
De Kleine Kikker Day Care Centre Utrecht, Holland.
Swiss School Kindergarten, Barcelona, Spain.
Migrants Resource Centre Créche, Pimlico, London.
Hoyle Early Years Centre, Bury, Lancashire.
Luginsland Kindergarten, Stuttgart, Germany.
Public Library, Peckham, London.
Workbox Desk, Staten Island Public Schools, New York.
Jigsaw Day Nursery, Wandsworth, London.
Münster Parish Kindergarten, Ingolstadt, Germany.
Fawood Children's Centre, Harlesden, London.
ART AND SCIENCE.
Introduction.
The Pattern Pod, Science Museum, London.
Museum of Childhood, Bethnal Green, London.
Dulwich Picture Gallery, Dulwich, London.
Guggenheim Museum, Bilbao, Spain.
Climbers and Creepers Children's Zone, Kew, London.
Roald Dahl Gallery, Aylesbury, Buckinghamshire.
Roald Dahl Museum, Great Missenden, Bucks.
Discover children's centre, Stratford, London.
Discovery Center, American Museum of Natural History, New York.
PLAY.
Introduction.
Blue Kangaroo Restaurant, King's Road, London.
Grudzien Residence, Hong Kong.
Hotel Tresanton, St Mawes, Cornwall.
Twenty-first Century Tree house, London.
St Mary's Garden hall Wimbledon, London.
Selfridges Kids, Oxford Street, London.
Children's Playhouses, Crediton, Devon
WATER
Introduction.
Shirokane Preschool, Tokyo, Japan.
Babington House, Midsomer Norton, Somerset.
Pavilions in the Park, Horsham, Surrey.
London Aquarium, South Bank, London.
The Deep, Hull, Yorkshire.
SLEEP.
Introduction.
Bedroom and Bathroom Floor, Kensington, London.
Family House, Toronto, Canada.
Evelina Children's Hospital, Lambeth, London.
Private Bedrooms and playrooms, Notting Hill, London.
Listing of Public Places.
Listings of Architects.
Bibliography.
Reviews
"â?¦plenty for anyone looking for inspiration or just somewhere to take their child at the weekend." The Times, 30th April 05
"...delightful" (The Peak, 29th November 2005)