International Handbook of Organizational Teamwork and Cooperative Working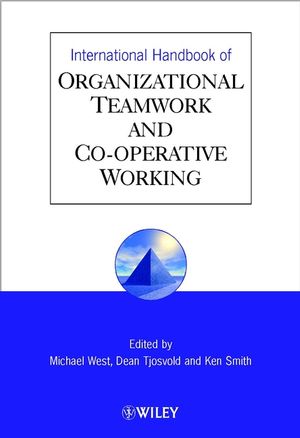 International Handbook of Organizational Teamwork and Cooperative Working
ISBN: 978-0-471-48539-1 April 2003 656 Pages
Description
In today's fast changing, hyper-competitive environment, teamwork and co-operative working enhance the organisation's adaptive capability. The team, rather than the individual, is increasingly seen as the building block of organisations and a key source of competitive advantage.

The International Handbook of Organisational Teamwork and Co-operative Working provides a clear focus on the psychological and social processes that can stimulate successful cooperation and teamwork. Michael West, Dean Tjosvold and Ken Smith have brought together the world's leading authorities from a range of social science disciplines to provide a contemporary review of established and emerging perspectives.

Throughout the book, processes that both facilitate and obstruct successful cooperation and teamwork are detailed, alongside guidance on best practice and methodology. The challenging and alternative perspectives presented will inform future research and practice.

The result is a systematic and comprehensive synthesis of knowledge from a range of disciplines that will prove invaluable to professionals, researchers and students alike.
* A systematic and coherent framework which organizes and structures the knowledge in this field
* An outstanding collection of authoritative "high profile" authors
* Challenging, alternative perspectives that will stimulate and enlighten future research and practice
* Selective, updated bibliographies of key literatures support every chapter, a valuable resource for students, trainers and practitioners
About the Editors.

List of Contributors.

Preface.

Acknowledgements.

SECTION I: INTRODUCTION AND CONTEXT OF COOPERATION.

1: Teamwork and Cooperation: Fundamentals of Organizational Effectiveness (Dean Tjosvold, Michael A.West & Ken G. Smith).

2: Cooperation and Conflict: A Personal Perspective on the History of the Social Psychological Study of Conflict Resolution (Morton Deutsch).

3: Evolution of Cooperation (Martin Evans).

4: Cooperation, Trust and the Values of Community: A Political and Institutional Perspective (Catherine Fieschi).

5: Contextualizing Cooperation (Greg Young).

SECTION II: THE PSYCHOLOGY OF INDIVIDUALS IN GROUPS.

6: Trust, Identity, and Attachment: Promoting Individuals' Cooperation in Groups (M. Audrey Korsgaard, Susan E. Brodt and Harry J. Sapienza).

7: The Role of Cognition in Managing Conflict to Maximize Team Effectiveness: A Team Member Schema Similarity Approach (Joan R. Rentsch and Jacqueline A. Zelno).

8: A Contingency Theory of Task Conflict and Performance in Groups and Organizational Teams (Carsten K.W. De Dreu and Laurie R. Weingart).

9: Training for Cooperative Group Work (David W. Johnson and Roger T. Johnson).


SECTION III: WORK GROUPS.

Team-based Organization: Creating an Environment for Team Success (Cheryl L. Harris and Michael M. Beyerlein).

11: Team Decision Making in Organizations (Mary Ann Glynn and Pamela S. Barr).

12: Power in Groups and Organizations (Peter T. Coleman and Maxim Voronov).

13: Managing the Risk of Learning: Psychological Safety in Work Teams (Amy C. Edmondson).

14: Managing Workforce Diversity to Enhance Cooperation in Organizations (Aparna Joshi and Susan E. Jackson).

15: Cooperation and Teamwork for Innovation (Michael A. West and Giles Hirst).

16: Skill Acquisition and the Development of a Team Mental Model: An Integrative Approach to Analysing Organizational Teams, Task, and Context (Janice Langan-Fox).

17: Social Loafing in Teams (Christel G. Rutte).

SECTION IV: INTEGRATED ORGANIZATIONS.

18: Intergroup Relations in Organizations (Daan van Knippenberg).

19: Difficulties Fostering Cooperative Agreements in Multiparty Negotiations: Cognitive, Procedural, Structural, and Social (Barbara Gray and Dana R. Clyman).

20: Network Structures and Teamwork (Kevin D. Clark).

21: Teamwork in the Netcentric Organization (Ritu Agarwal).

22: Designing Organizations for Large-scale Product Development: The Role of Cooperative Work Teams (Robert Drazin, Robert K. Kazanjian and Maureen Blyler).

23: Teamwork as Competitive Advantage (Russell W. Coff).

24: A Strategic HR Perspective on Top Executives (Cynthia Kay Stevens).

SECTION V: ALLIANCES BETWEEN ORGANIZATIONS.

25: Teamwork in Relationship Marketing (Peter A. Dunne and James G. Barnes).

26: Strategic Alliances and the Evolution of Trust across Organization Levels (Steven C. Currall and Andrew C. Inkpen).

27: When East and West Meet: Effective Teamwork across Cultures (Kwok Leung, Lin Lu and Xiangfen Liang).

SECTION VI: CONCLUSIONS.

28: Past, Present, and Future Perspectives on Organizational Cooperation (Michael A. West, Ken G. Smith and Dean Tjosvold).

Author Index.

Subject Index.