International Relations Theory Today, 2nd Edition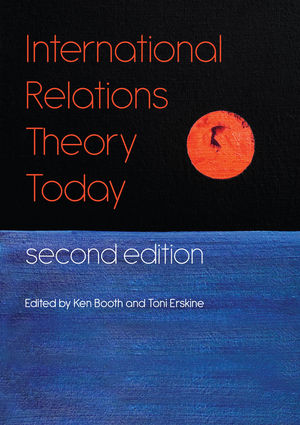 International Relations Theory Today, 2nd Edition
ISBN: 978-0-745-67120-8 June 2016 Polity 408 Pages
Download Product Flyer
Download Product Flyer
Download Product Flyer is to download PDF in new tab. This is a dummy description. Download Product Flyer is to download PDF in new tab. This is a dummy description. Download Product Flyer is to download PDF in new tab. This is a dummy description. Download Product Flyer is to download PDF in new tab. This is a dummy description.
Description
International Relations (IR) theorists speak with conviction, and often passion, to the global condition of human society. The result is an important, dynamic and often deeply divided field. This long-awaited new edition of International Relations Theory Today offers undergraduate and postgraduate students an essential guide to the complex terrain of IR theory and the key questions on its agenda.
With chapters by 25 prominent and provocative IR theorists, the book reveals the intellectual excitement - and turmoil - of theorizing world politics. It reflects the conflicts and tensions around the profound challenges facing the contemporary world, such as climate change, globalization, nuclear proliferation, and economic and political injustice and conflict, while also expressing hope that we can better understand, and respond to, these challenges.
Above all, this book demonstrates the significance of thinking theoretically about international relations and developing the tools not merely to describe but also to explain, analyse, prescribe and possibly re-imagine the global political landscape. As the world comes face-to-face with historic challenges over the coming decades, International Relations Theory Today will help its readers to participate more effectively in debates about the most important global political dilemmas of our time.
Table of contents
TABLE OF CONTENTS
Preface
Contributors
List of Figures
INTRODUCTION: THE ARGUMENTATIVE DISCIPLINE
Ken Booth and Toni Erskine
PART I: CONTESTATIONS
1. FIVE GENERATIONS OF IR THEORY
Nicholas Onuf
2. THEORY AND PRACTICE IN INTERNATIONAL RELATIONS
Chris Brown
3. IR THEORY AS IDENTITY DISCOURSES Richard Ned Lebow
4. IR THEORY AND THE QUESTION OF SCIENCE
Inanna Hamati-Ataya
5. IR THEORY AS AN ETHICAL PURSUIT
Molly Cochran
6. DO IR SCHOLARS ENGAGE WITH THE SAME WORLD?
Pinar Bilgin
7. 'IT'S THE ECONOMY, STUPID...'
Craig Murphy
PART II: THEORIES AND ISSUES
8. THE FUTURE OF WAR AS THE ULTIMA RATIO
William Wohlforth
9. THE NUCLEAR REVOLUTION AS THEORY
Campbell Craig
10. CARMEN MIRANDA RETURNS
Cynthia Enloe
11. GLOBAL CAPITALISM, INEQUALITY, AND POVERTY
David Blaney and Naeem Inayatullah
12. 'CIVILISED' RESTRAINT AND INTERNATIONAL SOCIETY
Andrew Linklater
13. DEMOCRACY IN A GLOBALISED WORLD
Heikki Patomäki
14. PROTEST AND INTERNATIONAL POLITICS IN THE INFORMATION AGE
Colin Wight
15. GLOBAL GOVERNANCE BEYOND IR?
Thomas Weiss and Rorden Wilkinson
16. INTERNATIONAL RELATIONS IN THE ANTHROPOCENE
Oran Young
PART III: THEORIZING IR TOMORROW
17. THE FUTURE FROM INSIDE THE LIBERAL WORLD ORDER
Jennifer Sterling-Folker
18. MUST IR REMAIN ABSTRACT IN THE FUTURE?
Christine Sylvester
19. STUDYING WORLD POLITICS AS A COMPLEX ADAPTIVE SYSTEM
Neta C. Crawford
20. A NEO-HOBBESIAN FUTURE?
Michael C. Williams
21. THE INTERNATIONAL STUDIES ASSOCIATION PRESIDENTIAL ADDRESS 2157 (TWO EXCERPTS)
Patrick Thaddeus Jackson
CONCLUSION: RESPONSIBILITY AND THE ARGUMENTATIVE DISCIPLINE
Ken Booth and Toni Erskine
References
Index
New To This Edition
The new edition of this popular and pioneering textbook has been completely revised and expanded. Under the expert editorship of Ken Booth and Toni Erskine, its 21 chapters bring together the field's leading scholars to offer an original, penetrating and insightful introduction to the key issues and debates in IR theory today. It will be a must-read for students wishing to extend and deepen their understanding of international relations' enduring dilemmas and contemporary challenges.
Reviews
The first edition of this book in 1995 defined IR theory for many students and scholars. This second edition will surely do the same. Booth and Erskine have creatively presented the "argumentative discipline", and their contributors demonstrate the multiple ways in which we can utilize IR theory.
Anthony Lang, University of St Andrews

A delightfully fresh, engaging and accessible introduction to IR theory for the new millennium. The contributions by the editors and their first-rate cast of authors will leave readers in no doubt as to the power, necessity and critical virtues of theory!
Robyn Eckersley, University of Melbourne

This collection of essays is a must-read for students and scholars of international relations. The authors contributing to the volume represent both problem-solving and critical perspectives, and their essays respect the past and reveal the future of IR theory – once again reminding us of the importance of pluralism in our scholarship and teaching in a discipline where controversy rules.
Steven Lamy, University of Southern California