J.G. Schottelius's Ausführliche Arbeit von der Teutschen HaubtSprache (1663) and its Place in Early Modern European Vernacular Language Study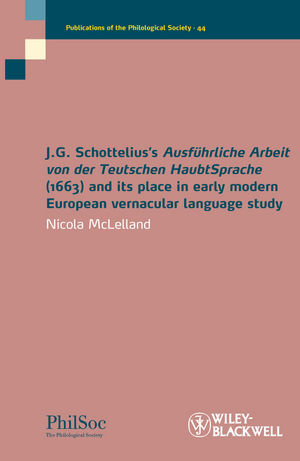 J.G. Schottelius's Ausführliche Arbeit von der Teutschen HaubtSprache (1663) and its Place in Early Modern European Vernacular Language Study
ISBN: 978-1-444-33961-1 November 2011 Wiley-Blackwell 426 Pages
Download Product Flyer
Download Product Flyer
Download Product Flyer is to download PDF in new tab. This is a dummy description. Download Product Flyer is to download PDF in new tab. This is a dummy description. Download Product Flyer is to download PDF in new tab. This is a dummy description. Download Product Flyer is to download PDF in new tab. This is a dummy description.
Description
This monograph offers a comprehensive reassessment of the dominant German grammarian of the 17th century J.G. Schottelius, and examines his legacy both in Germany and Europe.
Offers comprehensive documentation of Schottelius's numerous sources to show the range and limits of scholarly knowledge in 17th-century Germany

Introduces new data that provides insight into whether a grammarian like Schottelius could have any impact on how people actually wrote

Provides an accessible reading of Schottelius's landmark study (with quotations translated into English) that does not assume prior knowledge of the seventeenth-century German context

Traces Schottelius's influence on Dutch, Danish, Swedish, and Russian grammar
Table of contents
1 An introduction to the Ausführliche Arbeit von der Teutschen HaubtSprache (1663) and its place in European linguistic thought

1.1 Introduction
1.2 Schottelius in the social and intellectual context of seventeenth-century Europe 
     1.2.1 Schottelius's life and works
     1.2.2 The social, political and intellectual context in Germany
     1.2.3 Linguistic thought in Western Europe
1.3 The
Ausführliche Arbeit

1.4 Schottelius's ideology and aspirations revealed in the paratextual features of the
Ausführliche Arbeit

     1.4.1 Visual features that structure the
AA
     1.4.2 Accompanying material
     1.4.3 Engravings, title pages, and the acclamation of peace
2 Schottelius's concept of language

2.1 Introduction
2.2 What is 'the' German language?
     2.2.1 'The' German language as a supraregional written language variety
     2.2.2 The 'object language' of the
Ausführliche Arbeit: Haubtsprache vs Hochteutsch

     2.2.3 The ancestry of German 
     2.2.4 How and why has German changed over time?
2.3 Language, meaning, and the 'nature' of the German language
     2.3.1 The German
SprachNatur
'linguistic nature' (
AA
16, 2: 2)
     2.3.2 The problem of language and meaning
2.4 Imagining language: banyans and buildings
     2.4.1 The language as a banyan tree
     2.4.2 The language as a building
2.5 Evaluating language
     2.5.1 Traditional criteria
     2.5.2. Ratio, naturalness and linguistic analogy
3 Intersecting discourse traditions in the AA

3.1 Introduction
3.2 Legal discourse
3.3 Practical German grammatography
3.4 The Leiden University network - the roots of Schottelius's linguistic theory in Dutch and Flemish scholarship
3.5 Cultural patriotism
     3.5.1 Introduction: cultural and linguistic patriotism
     3.5.2 The metaphors of linguistic purism
     3.5.3 Cultural-patriotic yardsticks for evaluating the language
     3.5.4 Key genres of linguistic patriotism
     3.5.5 Language societies, the
Fruchtbringende Gesellschaft
('Fruit-bearing Society') and society
     members' impact on the
AA
3.6 International Latinate linguistic reflection
     3.6.1 Grammatical theory in the Latin tradition
     3.6.2 Analogy
     3.6.3 History and origin of language
3.7 Pansemioticism
3.8 Intersecting discourses in the
Ausführliche Arbeit
     3.8.1. Analogy and anomaly -
Regel, Grundrichtigkeit and Gewohnheit

     3.8.2 The rootword (
Stammwort
)
4 The genres of the Ausführliche Arbeit and their architexts

4.1 Architextuality in the
Ausführliche Arbeit
: inheriting and exploring genres
4.2 The orations (Book I,
AA
1-170)
4.3 The dialogue on translating (
AA
1216-1268)
4.4 Lists:
Vielfaltige Gründe / Exempla und
Beweistühmer ('manifold grounds, examples and proofs', AA 148: 10: 30)
     4.4.1 The list of proper names (AA 1029-1098): die rechten Teutschen wolklingende Nahmen ('the
     proper German, good-sounding names', AA 1031, §1)
     4.4.2 The list of proverbs (AA 1099-1147)
     4.4.3 The list of writers about Germany, and in or about German (AA 1148-1215)
     4.4.4 The list of rootwords (AA 1269-1450)
4.5. The Poetical Treatise (AA 791-997)
     4.5.1 Introduction to the poetics
     4.5.2 The
Verskunst
in the context of its predecessors in the genre
     4.5.3 Founding poetics on
Grundrichtigkeit
     4.5.4 Verse types and
ars combinatoria
4.6 Verse
4.7 Conclusion
5 The Sprachkunst of the Ausführliche Arbeit and its architexts

5.1 Introduction
5.2 Schottelius's grammar in competition with Gueintz (1641)
5.3 The grammar of 1663 and its hypotexts of 1641 and 1651
5.4 Rhetorical élan and constructing the authority of the grammarian
5.5 Schottelius's grammar and its architexts: his predecessors in the discourse of German grammatography  
     5.5.1 The existing grammatical tradition
     5.5.2 The structure of the grammar compared with its predecessors
     5.5.3 Spelling
     5.5.4.
Etymologia
(
AA
224-690): inflection and word-formation 
              5.5.4.1 Inflection
              5.5.4.2 Word-formation
    5.5.5 Syntax
5.6 Exemplification of
copia
5.7 Schottelius's grammatical terminology
6 Intertextuality, authorities and evidence in the Ausführliche Arbeit

6.1 Hypotextuality and the
AA
6.2 Intertexts
     6.2.1. The range of sources and authorities in the
AA
     6.2.2 Legal sources
     6.2.3 Evidence of German used in technical domains
     6.2.4 Didactic and prescriptive works on German language and style
     6.2.5 Chronicles and other historical works
     6.2.6 Philological study and speculation 
     6.2.7 Looking beyond Europe
6.3 Contemporary literary figures referenced in the
AA
     6.3.1 Christianity and
Spracharbeit
6.4 A special relationship: Schottelius and Georg-Philipp Harsdörffer
7 The legacy of the Ausführliche Arbeit in Germany and in Europe

7.1 Introduction
7.2 Cultural patriotism: the popularization of interest in and pride in German
7.3 Language history
     7.3.1 The origin of German and the origin of language
     7.3.2 Historical linguistic methodology
     7.3.3 Understanding linguistic change in German
7.4 Conceptualizing language
     7.4.1 Linguistic rationalism
     7.4.2 Hypostatization of the language and the 'spirit' of the language
     7.4.3 Correct language (
Sprachrichtigkeit
)
     7.4.4 Discourse strategies for talking about the language: metaphor
     7.4.5 Excursus: Schottelius and Leibniz
7.5 Lexicography
7.6 Subsequent Grammars of German
7.7 Pedagogical grammars for foreign learners
7.8 Grammatography in other languages
      7.8.1 Danish grammar
      7.8.2 Swedish grammar
      7.8.3 Dutch grammar
      7.8.4 Russian grammar
      7.8.5 The rootword in Semitic and Sanskrit languages
7.9 Conclusion
8 Prescription and practice: Schottelius and the development of a standard language

8.1 Introduction: how can we assess Schottelius's influence on language usage?
8.2 Scenario 1: Prescription of practice that is already widespread
8.3 Scenario 2: The prescription codifies practice that is found, but which is still more or less marginal compared with other forms, spellings and structures
8.4 Scenario 3: A variant is stigmatized
8.5 Scenario 4: Schottelius advocates spellings, forms or structures that are not found at all in earlier practice
8.6 Scenario 5: Schottelius is silent with regard to a form which nevertheless changes in frequency in subsequent usage
8.7 Conclusion
9 Conclusion
Appendix 1: Sources and authorities referenced in the AA
Bibliography
Primary sources
Secondary literature
Index of words cited
Index of subjects and names
Reviews
"Nicola McLelland's  study of J. G. Schottelius's Ausführliche Arbeit (AA) is a masterly exploration of an important milestone in the history of German."  (Modern Language Review, 1 July 2014)