Journal of Educational Measurement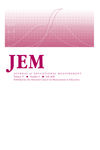 Journal of Educational Measurement
Vol 55(4 Issues in 2018 ) Print ISSN: 0022-0655 Online ISSN: 1745-3984 Impact Factor: .936
Description
JEM (quarterly) publishes original measurement research reflecting current issues and innovations within education broadly conceived. Topics addressed in JEM reflect contributions to educational measurement that are related to the purposes of NCME. JEM is a vehicle for sharing improvements and innovations in educational measurement.
Examples of Appropriate JEM Manuscript Topics
JEM is open to a variety of manuscripts that include thoughtful analyses of research on measurement processes, techniques, tools, and procedures. For example, manuscripts that include expositions on the theory, philosophy and practice of measurement, reports on novel and generalizable uses of educational measurement in education or related disciplines, and innovative approaches used to develop measurement instruments used in educational settings.
Submitted manuscripts within the broad domain of educational measurement are reviewed for the accuracy of their designs, analyses, and interpretations; their appropriateness for an audience of educational measurement practitioners and theorists; the significance and value of their contributions to education; and the originality of their content.
Examples of Inappropriate JEM Manuscript Topics
Certain types of manuscripts are unlikely to be published in JEM. These include:
Manuscripts with a focus outside the domain of educational measurement (e.g., manuscripts that describe the development or routine evaluation of new curricula).
Manuscripts that deal principally with the new statistical methods illustrated with simulated data solely, except those clearly pertaining to educational measurement theory and practice.
Manuscripts that report routine investigations of the psychometric adequacy of specific tests.
Manuscripts concerned with psychological issues unrelated to educational measurement.
Manuscripts that describe computer programs.