Judgment and Decision Making: Psychological Perspectives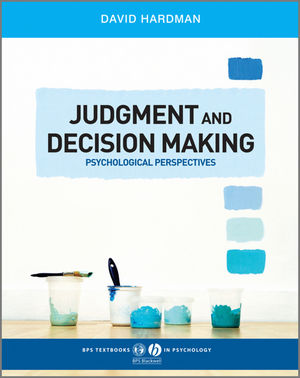 Judgment and Decision Making: Psychological Perspectives
ISBN: 978-1-405-12398-3 January 2009 230 Pages
Description
Judgment and Decision Making
is a refreshingly accessible text that explores the wide variety of ways people make judgments. It examines assessments of probability, frequency, and causation; as well as how decisions are rendered under conditions of risk and uncertainty. Topics covered include dynamic, everyday, and group decision making; individual differences; and the nature of mind and brain in relation to judgment and decision making.
Offering up-to-date theoretical coverage, including perspectives from evolutionary psychology and neuroscience, this volume has everything a psychology student needs for BPS accreditation, whilst drawing out the practical applications for non-psychology students with plentiful examples from business, economics, sport, law, and medicine. The latest addition to the BPS Textbooks in Psychology series, this thorough text provides a succinct, reader-friendly account of the field of judgment and decision making.
Cannot be combined with any other offers.
Table of contents
Preface and Acknowledgements.
1. Introduction and Overview: Judgments, Decisions, and Rationality.
2. The Nature and Analysis of Judgment.
3. Judging Probability and Frequency.
4. Judgmental Distortions: The Anchoring-and-Adjustment Heuristic and Hindsight Bias.
5. Assessing Evidence and Evaluating Arguments.
6. Covariation, Causation, and Counterfactual Thinking.
7. Decision Making under Risk and Uncertainty.
8. Preference and Choice.
9. Confidence and Optimism.
10. Judgment and Choice over Time.
11. Dynamic Decisions and High Stakes: Where Real Life Meets the Laboratory.
12. Risk.
13. Decision Making in Groups and Teams.
14. Cooperation and Coordination.
15. Intuition, Reflective Thinking, and the Brain.
References.
Author Index.
Subject Index
Reviews
"A refreshingly accessible text that explores the wide variety of ways people make judgements." (The Psychologist, January 2009)
Features


An accessible examination of the wide variety of ways people make judgments


Features up-to-date theoretical coverage, including perspectives from evolutionary psychology and neuroscience


Covers dynamic decision making, everyday decision making, individual differences, group decision making, and the nature of mind and brain in relation to judgment and decision making


Illustrates key concepts with boxed case studies and cartoons