Knowledge Works: The Handbook of Practical Ways to Identify and Solve Common Organizational Problems for Better Performance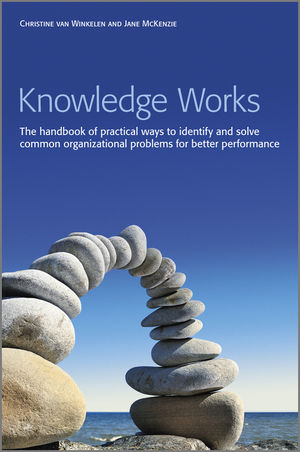 Knowledge Works: The Handbook of Practical Ways to Identify and Solve Common Organizational Problems for Better Performance
ISBN: 978-1-119-97781-0
Mar 2011
328 pages
Description
Knowledge Works is a handbook full of ideas to help you draw on people's knowledge to keep ideas fresh, reduce waste, and build competence and capability. You can either dip into it according to your needs, or work through it in a more systematic way to create a plan to improve your organization's performance.

""Knowledge Works is a very practical book that provides proven solutions for important knowledge-related problems in organizations including: how to convince managers that knowledge is important, how to create a knowledge-sharing culture, and how to improve the quality of conversations. A must-read for all managers of knowledge-intensive organizations.""
Daan Andriessen, Professor of Intellectual Capital, Inholland University of Applied Sciences, The Netherlands

""To be successful as a manager, you need to make better decisions, be more innovative and to do more with less. In this highly practical handbook, Christine Van Winkelen and Jane McKenzie offer new ideas to challenge your current thinking and achieve this. Their work is soundly based on 10 years collaborative research with the Knowledge Management Forum at the Henley Business School.""
David Gurteen, Founder and Director, Gurteen Knowledge Community

""This book shows in a very inspiring and hands-on way how knowledge works. This is an utmost important understanding in the growing intellectual economy for increased operational knowledge effectiveness. The book has in an impressive way systematized many challenging K-works perspectives, from knowledge mapping and flows to social media and knowledge creating conversations. It is demonstrating a number of insightful real life stories and projects during 10 years of the Henley KM Forum, as well as providing valuable reading notes. Happy Knowledge Work ...""
Leif Edvinsson, Honorary Chairman for the Henley KM Forum, The World´s First Professor of Intellectual Capital
Introduction.
A handbook that you can dip into according to your needs, or that you can work through in a more systematic way to improve your organization's performance.
SECTION I: Establish strategic priorities.
By understanding from the outset the sort of knowledge that makes a difference to your organization's performance you can focus limited resources of time and attention on the things that will have the biggest impact in terms of generating value.
CHAPTER 1:Identifying valuable knowledge.
CHAPTER 2:Making a comprehensive assessment of knowledge flows.
Section II: Enable operational effectiveness.
By connecting well established knowledge-sharing practices with core business activities you can avoid "reinventing the wheel" and do more with less.
CHAPTER 3:Taking knowledge initiatives to the front line of the organization.
CHAPTER 4:Integrating knowledge practices into projects.
CHAPTER 5:Working collaboratively in partnerships.
Section III: Stimulate innovation.
By retaining and developing expertise and understanding how to combine knowledgebased methods and approaches more effectively, you generate more innovation.
CHAPTER 6:Building knowledge enabled innovation capability.
CHAPTER 7:Retaining and developing expertise.
Section IV: Increase learning capacity.
By creating mechanisms to join up the learning that is happening around the organization, you create the conditions for greater operational effectiveness and stimulate new thinking and innovation.
CHAPTER 8:Joining up individual and organizational learning.
CHAPTER 9:Extracting knowledge value using document management systems.
CHAPTER 10:Sustaining effective communities of practice.
CHAPTER 11:Learning from external collaborations.
Section V: Become more agile.
By creating the conditions that help people adapt their knowledge and understanding to the constant turbulence in the outside world, the organization can become more responsive to new challenges.
CHAPTER 12:Making more knowledgeable decisions.
CHAPTER 13:Using social media for knowledge sharing.
CHAPTER 14:Transforming relationships and structures in organizations.
Section VI: Make change stick.
By developing key knowledge-sharing behaviours and using effective communication approaches you show people why a knowledge approach matters and what they need to do themselves to contribute.
CHAPTER 15:Developing knowledge-sharing behaviours and effective knowledge activists.
CHAPTER 16:Moving from hard sell to compelling buy.
CHAPTER 17:Improving the quality of conversations.
CHAPTER 18:Taking account of national culture in designing knowledge initiatives.
Index.