Learning for Life in the 21st Century: Sociocultural Perspectives on the Future of Education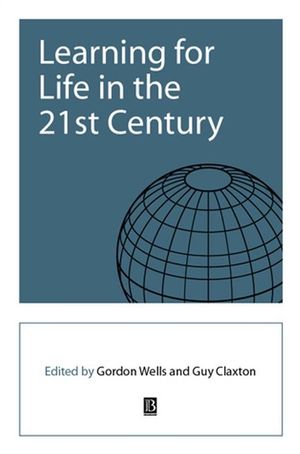 Learning for Life in the 21st Century: Sociocultural Perspectives on the Future of Education
ISBN: 978-0-631-22330-6 April 2002 Wiley-Blackwell 316 Pages
Description
United by the belief that the most significant factor in shaping the minds of young people is the cultural setting in which learning takes place, the twenty eminent contributors to this volume present new thinking on education across the boundaries of school, home, work and community.
Table of contents
1. Sociocultural Perspectives on the Future of Education: Gordon Wells And Guy Claxton.
2. Education for the Learning Age: A Sociocultural Approach to Learning to Learn: Guy Claxton.
3. Becoming the Village Education Across Lives: Jay L. Lemke.
4. The Gift of Confidence: A Vygotskian View of Emotions: Holbrook Mahn and Vera John-Steiner.
5. From Activity to Directivity: The Question of Involvement in Education: Pablo Del Río and Amelia Álvarez.
6. Sociocultural Perspectives on Assessment: Caroline Gipps.
7. Teaching, Learning and Development: A Post-Vygotskian Perspective: Anna Stetsenko And Igor Arievitch.
8. Emerging Learning Narratives: A Perspective from Early Childhood Education: Margaret Carr.
9. Semiotic Mediation and Mental Development in Pluralistic Societies: Some Implications for Tomorrow's Schooling: Ruqaiya Hasan.
10. Learning to Argue and Reason Through Discourse in Educational Settings: Clotilde Pontecorvo And Laura Sterponi.
11.Developing Dialogues: Neil Mercer.
12. Supporting Students' Learning of Significant Mathematical Ideas: Paul Cobb And Kay Mcclain.
13. A Developmental Teaching Approach to Schooling: Seth Chaiklin.
14. Standards for Pedagogy: Research, Theory and Practive: Stephanie Stoll Dalton and Roland G. Tharp.
15. Enquiry as an Orientation for Learning, Teaching and Teacher Education: Gordon Wells.
16. Can a School Community Learn to Master Its Own Future? : An Activity-Theoretical Study of Expansive Learning Among Middle School Teachers: Yrjö Engeström, Ritva Engeström and Arja Suntio.
17. Cultural Historical Activity Theory and the Expantion of Opportunities for Learning After School: Katherine Brown And Michael Cole.
18. Building a Community of Educators Versus Effecting Conceptual Change in Individual Students: Multicaultural Education for Preservice Teachers: Eugene Matusov And Renée Hayes.
19.Organising Excursions into Specialist Discourse Communities: A Sociocultural Account of University Teaching: Andy Northedge.
20. Afterword: Luis C. Moll.
Reviews
"Throughout, the editors achieve their stated goals, moving from the conceptual to the practical, and from treating younger to older age groups. Chapter contributors, from universities and research centers in seven countries including the US, appear to be experts in their areas. They present both their own research findings and reviews of others' research. [...] The book is generally organized well, with a synoptic afterword by Luis Moll [...] Interested readers should find the book useful. Summing up: Recommended. Upper-division undergraduates and above."
P. M. Socoski, City College, Choice, March 2003
"Learning for Life in the 21st Century is an impressive and ambitious book." Carey Jewitt, University of London, Educational Review, Vol.55, November 2003
What's New


Includes contributions from leading educational thinkers in Finland, Italy, Japan, New Zealand, the UK and the US


Looks at the implications of a sociocultural perspective for the future of education


Crosses the boundaries of education at school, home, work and in the community


Creates a picture of what education needs to become in order to prepare people for the challenges of the future


Structured to correspond to the chronological organization of education