Living Memory: The Social Aesthetics of Language in a Northern Italian Town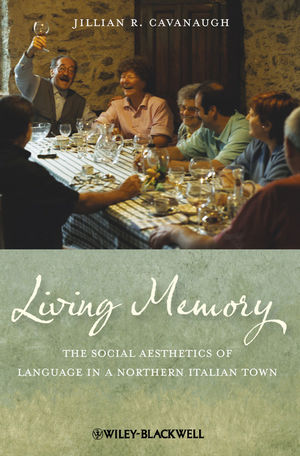 Living Memory: The Social Aesthetics of Language in a Northern Italian Town
ISBN: 978-1-118-47988-9 June 2012 Wiley-Blackwell 224 Pages
Description
Living Memory
investigates the complex question of language and its place at the heart of Bergamasco culture in northern Italy.
• Integrates extensive participant observation with sociolinguistic data collection
• Reveals the political and social dynamics of a national language (Italian) and a local dialect (Bergamasco) struggling for survival
• Introduces the original concept of the "social aesthetics of language": the interweaving of culturally-shaped and emotionally felt dimensions of language-choice
• Written to be accessible to students and specialists alike
• Part of the Blackwell Studies in Discourse and Culture Series
Table of contents
Series Editor's Preface.
Preface.
Constructing Transcripts: Orthographic Conventions and Transcription Processes.
1. Introduction.
2. Bergamasco in Use: The Feel of Everyday Speaking.

3. Gendering Language.
4. Bergamasco on Stage: Poetry and Theater.

5. Modern Campanilismo: The Value of Place.
6. Bergamo, Italy, Europe: Speaking Contextualized.

7. Conclusion.

Notes.

References.

Index.
Features
• Integrates extensive participant observation with sociolinguistic data collection
• Reveals the political and social dynamics of a national language (Italian) and a local dialect (Bergamasco) struggling for survival
• Introduces the original concept of the "social aesthetics of language": the interweaving of culturally-shaped and emotionally felt dimensions of language-choice
• Written to be accessible to students and specialists alike