MDI and TDI: Safety, Health and the Environment: A Source Book and Practical Guide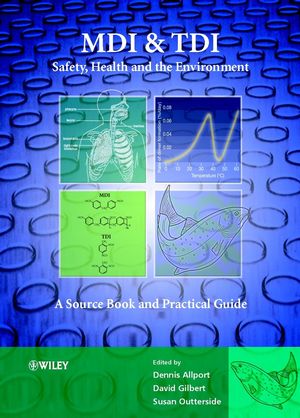 MDI and TDI: Safety, Health and the Environment: A Source Book and Practical Guide
ISBN: 978-0-471-95812-3
Mar 2003
460 pages
Description
MDI and TDI are polymer building blocks used in large quantities and have a variety of applications in industry. As their use often involves large numbers of workers they are also subject to stringent health and safety regulations. This book covers all the important topics concerning MDI and TDI and provides comprehensive coverage on the health and environmental science associated with these.
First comprehensive discussion of all known health and environmental information relating to MDI and TDI
Draws upon the insights of academic, regulatory and industrial experts
Written with the knowledge and perspective of the International Isocyanate Institute
Highly illustrated volume with colour photogr aphs, spectra, tables and graphs
Addressing their use throughout industry this title presents an essential source of information for occupational physicians, industrial hygiene professionals, polyurethane producers, environmental scientists, chemical analysts and regulators.
Buy Both and Save 25%!
This item: MDI and TDI: Safety, Health and the Environment: A Source Book and Practical Guide
The Polyurethanes Book (Hardcover £249.00)
List of Authors and Affiliations.
A Book of Distinction.
Acknowledgements.
MDI and TDI Usage: Responsible Risk Management (D C Allport, D S Gilbert and S M Outterside).
1 MDI, TDI and the Polyurethane Industry (D C Allport, D S Gilbert and S M Outterside).
2 Handling MDI and TDI (D C Allport, et al.).
3 Health (D C Allport, P Davies, W F Diller, J E Doe, F Floc'h, H D Hoffmann, M Katoh and J P Lyon. Appendices by D I Bernstein).
4 The Environment (R E Bailey, A Gard, K H den Haan, F Heimbach, D Pemberton, H Tadokoro, M Takatsuki and Y Yakabe)
5 Supporting Sciences.
5.1 Chemistry of Manufacture of MDI and TDI (D C Allport, D S Gilbert and B Tury).
5.2 Structures and Nomenclature (D C Allport, D S Gilbert and B Tury).
5.3 Chemical Reactions of MDI and TDI (D C Allport, D S Gilbert, D Pemberton and B Tury).
5.4 Physical and Fire Properties (S M Outterside and D Pemberton).
5.5 Fire Behaviour of MDI and TDI (J F Chapman, B Cope, G Marlair and F Prager).
5.6 Occupational Exposure Limits, Stack Limits and Community Limits (D C Allport, D S Gilbert, S M Outterside and B Tury).
5.7 Sampling and Analysis (K S Brenner, V Dharmarajan and P Maddison).
Index.
"...this book is a superb contribution to the literature." (
Journal of Hazardous Materials
, Vol. 106, 2004)
""....This book covers all the important topics concerning MDI and TDI and provides comprehensive coverage on the health and environmental science associated with these.  (European Occupational Health & Safety Magazine, June 2003)