Mainstreaming Corporate Responsibility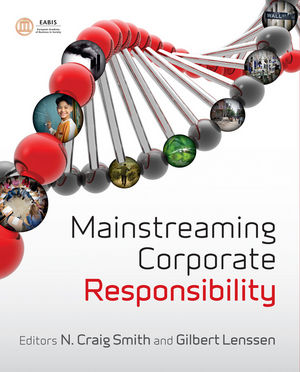 Mainstreaming Corporate Responsibility
ISBN: 978-0-470-75394-1 June 2009 602 Pages
Description
As managers find that they must grapple with increasingly complex social and environmental problems as an integral part of business strategy and operations, they require different knowledge, skills and competencies than in the past. Mainstreaming Corporate Responsibility pioneers a way for business schools to equip future business leaders and managers to meet these challenges. Based upon a curriculum development project run by the INSEAD Social Innovation Centre, London Business School and EABIS, this book is a collection of texts and cases for use in courses across the business disciplines as well as courses on Corporate Responsibility.

Watch the Editor of Mainstreaming Corporate Responsibility:
http://tv.insead.edu/video/Most+Recent/100/5253

Watch two of the chapter authors:
http://knowledge.insead.edu/video/index.cfm?vid=313
Foreword: Transforming Business and Business Education by Embedding Corporate Responsibility throughout the Curriculum
Frank Brown, INSEAD and Tom Robertson, The Wharton School
I. Introduction
1.Mainstreaming Corporate Responsibility
N. Craig Smith, INSEAD and Gilbert Lenssen, EABIS
2. Business as Usual is Not the Answer to Society's Problems
N. Craig Smith, INSEAD and Halina Ward, IIED
II. Strategy
3. Corporate Responsibility in Strategy
Andrew Pettigrew, University of Bath
4. Microsoft: Bringing Technology to the Aging Population
Maurizio Zollo, Bocconi University and Robert E. Crawford
5. IBM in China: Responding to a Government's Social Initiatives
Steven White, CEIBS
6. Iberdrola: A Utility´s Approach to Sustainability and Stakeholder Management
Tanguy Jacopin, Serge Poisson-de Haro and Joan Fontrodona, IESE Business School and HEC Montréal
III. Accounting
7. Corporate Responsibility in Accounting
Dennis Oswald, University of Michigan
8. ENEL: CSR and Performance Measurement
Anna Pistoni and Lucrezia Songini, Bocconi University
9. Novo Nordisk A/S – Integrating Sustainability into Business Practice
Dennis Oswald, London Business School and Mette Morsing, Copenhagen Business School
10. From Grace to Disgrace: The Rise and Fall of Arthur Andersen
N. Craig Smith and Michelle Quirk, London Business School
IV. Finance
11. Corporate Responsibility in Finance
John Becker-Blease, Washington State University
12. Maximizing Shareholder Value: An Ethical Responsibility?
Theo Vermaelen, INSEAD
13. Veridian: Putting a Value on Values
Rakesh Khurana, Joel Polodny and Jaan Elias, Harvard Business School
V. Economics
14. Corporate Responsibility in Economics
Landis Gabel, INSEAD
15. Unilever and Oxfam: Understanding the Impacts of Business on Poverty (A)
N. Craig Smith, INSEAD and Robert E. Crawford
16. Revenue Flow and Human Rights: A Paradox for Shell Nigeria
Ulrich Steger and Aileen Ionescu-Somers, IMD
VI. Entrepreneurship
17. Corporate Responsibility in Entrepreneurship
Filipe Santos, INSEAD
18. Innocent: Values and Value
David Grayson and Robert Brown, Cranfield School of Management
19. Waste Concern: Turning a Problem into a Resource
Johanna Mair and Jordan Mitchell, IESE Business School
VII. Marketing
20. Corporate Responsibility in Marketing
C.B. Bhattacharya, Boston University
21. Bounded Goodness: Marketing Implications of Drucker on Corporate Responsibility
N. Craig Smith, INSEAD
22. Norsk Hydro ASA: Sustainable PVC at Hydro Polymers?
N. Craig Smith, INSEAD and Josephine Brennan, London Business School
23. GlaxoSmithKline: Developing Country Access to Essential Medicines
N. Craig Smith and Anne Duncan, London Business School
VIII. Organisational Behaviour and Human Resource Management
24. Corporate Responsibility in Organisational Behaviour
Mette Morsing, Copenhagen Business School
25. Betapharm: Be Different or Die
Andre Habisch and Stephan Kaiser, Ingolstadt School of Management, Nigel Roome, Erasmus
26. The TPG-WFP Partnership: Looking for a Partner
Luk N. Van Wassenhove and Rolando M. Tomasini, INSEAD
IX. Operations Management
27. Corporate Responsibility in Operations Management
Luk N. Van Wassenhove, INSEAD
28. illycaffè: Value Creation through Responsible Supplier Relationships
Francesco Perrini and Angelo Russo, Bocconi University
29. The Co-Operative Group: Fair-Trade Chocolate
Chris Voss, Stephanie Robertson, Adrian Clarke and Josephine Brennan, London Business School
30. The Wal-Mart Supply Chain Controversy
N. Craig Smith, INSEAD and Robert E. Crawford
Index