Major Incident Medical Management and Support: The Practical Approach in the Hospital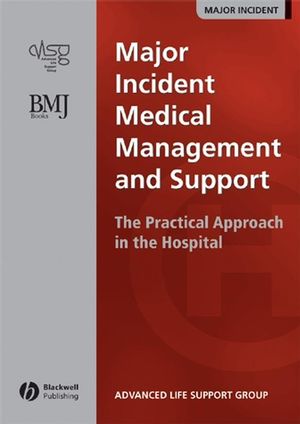 Major Incident Medical Management and Support: The Practical Approach in the Hospital
ISBN: 978-0-727-91868-0
Aug 2005, BMJ Books
168 pages
Description
This is the course book for a new ALSG course on preparation for and medical management of major incidents within the hospital. It will be a companion volume to MIMMS, which deals with the prehospital situation, and will meet an ever increasing need as natural and other disasters affect hospital staff and administrators. The course aims to provide a systematic approach for all personnel who would be involved in managing a major incident in the hospital.


This title is now available for the PDA, powered by Skyscape - to buy your copy Click here
Part 1 Introduction.
The epidemiology and incidence of major incidents.
Are we ready for the next major incident?.
The structured approach to the hospital response.
Part 2 Preparation.
Planning for major incidents.
Major incident equipment.
Training.
Part 3 Management.
The collapsable hierarchy concept.
The clinical hierarchy.
The nursing hierarchy.
The management hierarchy.
Part 4 Support.
Declaring a majjor incident and activating the plan.
The reception phase.
Triage.
The definitive care phase.
The recovery phase.
Part 5 Special incidents.
Incidents involving hazardous chemicals.
Incidents involving a large number of burns.
Incidents involving a large number of children
"...this book should be read by all hospital personnel with potential roles in major incidents, from chief executives, through duty managers, to front line emergency care staff. It offers practical guidance of such importance that every emergency department in the UK should have a readily available copy of the book for all staff to read."
- Emergency Nurse, Vol 14, No.2, May 06

Citical acclaim for companion volume Major Incident Medical Management & Support: The Practical Approach (MIMMS):

"This book is outstanding value for money and is highly recommended to all those interested in major incident management."

Journal of the Royal College of Surgeons of Edinburgh
This systematic winning formula will increase staff knowledge in dealing with disasters on the hospital site


Complements the established prehospital MIMMS system

Timely publication in an increasingly disaster-aware climate

Tried and tested ALSG format