Making It Happen: A Non-Technical Guide to Project Management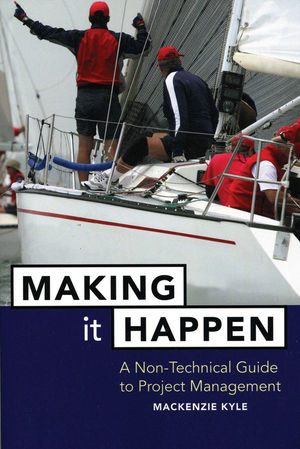 Making It Happen: A Non-Technical Guide to Project Management
ISBN: 978-0-471-64234-3 July 1998 256 Pages
Description
Making It Happen: A Non-Technical Guide to ProjectManagement provides a fresh and clear approach to projectmanagement. Written in the form of a novel, it covers the basics ofproject management in a friendly, interesting, and memorable way.

Will Campbell, a reasonably competent middle manager, issuddenly thrust into managing a high-profile project that couldmake or break his career. With no project management experience,and armed only with the guidance of his eccentric menror, Martha,Will learns the hard way. As Will navigates the rough seas ofcompany politics, treacherous competition, and a project swirlingout of control, he narrowly evades many pitfalls, and masters someindispensable project management tools along the way.

Against the backdrop of this personal drama, a simple, rationalapproach to project management unfolds. Will's ability to graspthese principles is the key to his survival, and could be the keyto yours. Making It Happen enables the reader to transformrisky, real-life situations into success.
* Provides a simple, non-technical approach, useful to anybusiness person involved in teams or managing projects
* Offers practical tools and principles that will make anyproject a success: from office moves to product roll-outs, systemsimplementations to training program delivery, and everything inbetween
* Boxes, definitions, and charts highlight key points andpractical project management tips.
Table of contents
Preface

Part One: GENESIS

Chapter 1: Sink or Swim

Chapter 2: Grasping the Scope

Chapter 3: What is a Project?

Chapter 4: The Team Meets

Chapter 5: Sifting Through the Mess

Chapter 6: Asking the Right Questions

Chapter 7: Writing the Objective Statement

Chapter 8: The Project Manager Faces the Board

Part Two: THE PROJECT TEAM

Chapter 9: The Team's Roles

Chapter 10: Company Politics

Part Three: THE DESIGN PHASE

Chapter 11: What is Design, and How Long Does it Take?

Chapter 12: Organizing the Design Process

Chapter 13: The User's Needs

Chapter 14: Charts, Costs, and Other Puzzles

Chapter 15: More Problems with Schedules

Part Four: EXECUTION PLANNING

Chapter 16: Tasks

Chapter 17: A Dependency Chart

Chapter 18: Finding and Fixing Mistakes

Part Five: EXECUTION

Chapter 19: Altering Plans

Chapter 20: On a Crash Course

Chapter 21: A New Assignment

Part Six: THE REVIEW PROCESS

Chapter 22: Assessing Assignments

Part Seven: THE PROJECT MANAGER'S SURVIVAL MANUAL

Chapter 23: Recording the Fundamentals

Part Eight: NEW FRAMEWORKS

Chapter 24: Checking Assumptions

Epilogue
Reviews
"...a novelty in helping non-project managers understand what aproject is and, above all, the art and science of projectmanagement. Easy to read, it captures an approach I would recommendto anyone."
-- Dr. Calin Popescu, Professor of Engineering and ProjectManagement, University of Texas at Austin

"[Mackenzie Kyle has] put a proven process for planning andmanaging projects into a great read."
-- Richard Pearson, Managing Director, Priority ManagementHong Kong

"Making It Happen is not only an easy read, laying outthe fundamentals of organizing projects, but also brings to lifethe concepts."
-- Gary Hamer, BC Gas