Management of Privatised Housing: International Policies and Practice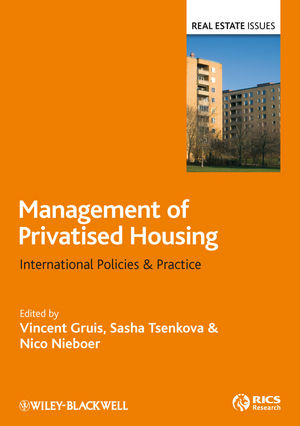 Management of Privatised Housing: International Policies and Practice
ISBN: 978-1-405-18188-4 April 2009 Wiley-Blackwell 304 Pages
Description
The sale of public and social housing has been a major aspect of housing policies in recent decades. Privatisation and a general retreat by governments from the housing arena have pushed up sales; this has been particularly evident within Eastern European countries and China but is also taking place in many Western European countries and Australia.
Wherever it occurs, such privatisation has lead to new challenges for housing management. Many estates are now a mix of public and private, raising questions about the division of responsibilities between different owners. Legislation to address this is not adequate and public managers are still hampered by the bureaucratic mechanisms within their organisations, while the new owners are not used to their responsibilities for maintenance. Added to this are the limited financial resources for renewal and maintenance among both public and private owners at a time when the need for investments is urgent, especially within the massive housing estates dating from the communist era.
Experts from Australia, France, the Netherlands, UK, Switzerland, China, the Czech Republic, Moldavia, Russia, Serbia and Slovenia present their county's context and the policies and practice for managing privatised housing, together with case studies illustrating the issues described.
How privatised public housing is managed is of international concern, which will benefit from an international exchange of knowledge and best practice. The comparative analysis offered in Management of Privatised Housing: International Policies & Practice makes a significant contribution to the literature on this important topic.
INTRODUCTION: Conceptual Framework.
Part I – CASE STUDIES FROM WESTERN EUROPE AND AUSTRALIA.
England, The Netherlands, France, Switzerland, Australia.
.
Part II – CASE STUDIES FROM EASTERN EUROPE AND CHINA.
Serbia, The Czech Republic, Slovenia, Russia, Moldova, China.
.
POST-PRIVATISATION IN HOUSING: POLICY AND RESEACH AGENDA.
In order to facilitate cross-national analyses, all chapters are written according to the same general format. This format consists of four sections:.
Section 1: Description of national housing context in country X.
- a description of the national composition of the housing stock according to tenure, size, and dwelling type, supported by statistics;.
- a general description of the housing system: which organisations develop and manage the housing stock; what are government regulations for housing development and management concerning rent setting, allocations, sales, maintenance and renewal, and tenant involvement; how are the landlords supervised (by whom and on what basis); what financial support exists for housing management, renewal and development (exploitation grants, subsidies for renewals, government loans, government guarantees, housing grants)?.
- a general description of the situation on the housing market: shortages and surpluses according region, dwelling type, tenure and price.
- a reflection on the occurrence of housing problems, problematic neighbourhoods, vacancies, etc..
Section 2: Privatisation in country X.
- a reflection on the privatisation policies in the past decades;.
- description on the occurrence of privatisation, supported by statistics of the pace of privatisation (quantities);.
- a description of the conditions under which dwellings were sold: price and the division of management responsibilities between landlords and homeowner;.
- an analysis of the challenges for maintenance and renewal of the partly-privatised estates;.
- an analysis of the institutional, organisational, cultural, social and financial problems of management;.
- policies and (innovative) practices that have been or are being implemented to deal with these problems..
Section 3: Case study.
Describes one or more case studies of partly privatised estates. These cases may be selected on the basis of their representation of common problems and/or solutions in country X and/or on the basis of the innovative 'best practice' approach that has been undertaken to deal with the problems. The section about the case study will consist of:.
- a description the estate (quality, division according to tenure, price, position on the housing market);.
- a reflection on the privatisation process (pace, background, conditions);.
- a description of social, functional and technical problems that occur in the estate and the problems of management, maintenance and renewal;.
- a reflection on to what extent the above problems are caused or increased by the privatisation;.
- a reflection on the initiatives that have been and will be undertaken to cope with the problems and their (expected) success..
Section 4: Conclusion.
Contains a brief summary of the chapter plus an outlook for the future problems/challenges.
"It is very interesting to read about the background and consequences of public housing privatisation in all these countries . . . That said, the editors present a very useful reference book on housing privatisation and management across countries. Keeping in mind their caveat that the book is strictly explorative in nature, it can certainly be considered a good basis for some more fundamental work on the topic in the future." (Journal Housing & the Built Environment, 2011)
"This book is worth reading for scholars and researchers as well as for practitioners. The volume sheds considerable light on the consequences of privatisation of public housing." (International Journal of Housing Policy, September 2010)


1. offers an international exchange of knowledge

2. improves understanding of management challenges in mixed ownership housing