Managing Construction Purchasing: Contract Buyout; QA/QC Methods; Negotiation Strategies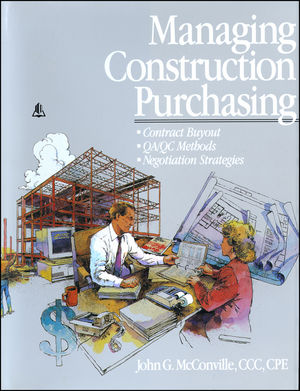 Managing Construction Purchasing: Contract Buyout; QA/QC Methods; Negotiation Strategies
ISBN: 978-0-876-29316-4 August 1993 325 Pages
Description
Problem-solving data for immediate use in medium-to-large scale construction projects.
Practical, "hands-on" advice that will help you achieve higher quality standards...ensure top production from subcontractors. A step-by-step graduate course to smoother job closings and on-time performance. How to negotiate better. Do a better job of quoting work. Minimize risk from weak contracts.
Contract Buyout
QA/QC Methods
Negotiation Strategies
Table of contents
Chapter 1 Introduction to Construction Purchasing.
Chapter 2 The Overall Procurement Plan.
Chapter 3 Purchasing.
Chapter 4 Quality, Inspection, Expediting, and Transportation Activities.
Chapter 5 Contracting, Subcontracting and Administration.
Chapter 6 International Purchasing, Contracting, and Subcontracting.
Chapter 7 Selling Construction Products and Services.
Appendix A Purchasing Forms.
Appendix B Professional Associations.
Appendix C Information for Overseas Construction.
Glossary.
Index.