Market Devices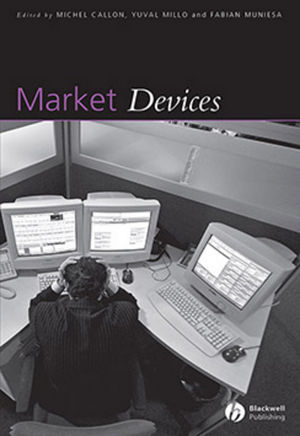 Market Devices
ISBN: 978-1-405-17028-4
Sep 2007, Wiley-Blackwell
326 pages
Description
A set of novel contributions exploring the sociology of 'market devices' - the analysis of the various sorts of technical instruments that intervene in the shaping and reshaping of markets.



Explores how market devices are set to configure economic calculative capacities and observes the part they play in the marketability of goods and services

Includes a wide array of objects that have been often overlooked in sociological analysis from pricing models to merchandising tools, from trading protocols to aggregate indicators

Analyses the performative aspects of knowledge and expertise needed in adjusting and calibrating marketing devices

Includes original empirical material from the emerging intersection between economic sociology and science and technology studies
1. An Introduction to Market Devices: Fabian Muniesa, Yuval Millo and Michel Callon.
2. Calculators, Lemmings or Frame-makers? The Intermediary Role of Securities Analysts: Daniel Beunza and Raghu Garud.
3. Where Do Analysts Come From? The Case of Financial Chartism: Alex Preda.
4. The Death of a Salesman? Reconfiguring Economic Exchange in Swedish Post-war Food Distribution: Hans Kjellberg.
5. Struggling to Be Displayed at the Point of Purchase: The Emergence of Merchandising in French Supermarkets: Sandrine Barrey.
6. A Sociology of Market-things: On Tending the Garden of Choices in Mass Retailing: Franck Cochoy.
7. A Market of Opinions: The Political Epistemology of Focus Groups: Javier Lezaun.
8. Performance Testing: Dissection of a Consumerist Experiment: Alexandre Mallard.
9. Framing Fish, Making Markets: The Construction of Individual Transferable Quotas (ITQs): Petter Holm and Kåre Nolde Nielsen.
10. Making Things Deliverable: The Origins of Index-based Derivatives: Yuval Millo.
11. The Q(u)ALYfying Hand: Health Economics and Medicine in the Shaping of Swedish Mmarkets for Subsidized Pharmaceuticals: Ebba Sjögren and Claes-Fredrik Helgesson.
12. Price as a Market Device: Cotton Trading in Izmir Mercantile Exchange: Koray Caliskan.
13. Parasitic Formulae: The Case of Capital Guarantee Products: Vincent-Antonin Lépinay.
14. Scorecards as Devices for Consumer Credit: The Case of Fair, Isaac & Company Incorporated: Martha Poon.
Notes on Contributors.
Index


Addresses the crucial role of technical instruments in the construction of markets

Explores how market devices are set to configure economic calculative capacities and observes the part they play in the marketability of goods and services

Includes a wide array of objects that have been often overlooked in sociological analysis from pricing models to merchandising tools, from trading protocols to aggregate indicators

Analyses the performative aspects of knowledge and expertise needed in adjusting and calibrating marketing devices

Includes original empirical material from the emerging intersection between economic sociology and science and technology studies