Maslow on Management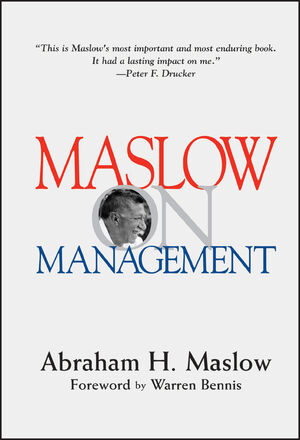 Maslow on Management
ISBN: 978-0-471-24780-7
Sep 1998
336 pages
Description
A seminal work onhuman behavior in the workplace-now completely updated

"At last! We have all been quoting Maslow for years and to now have such an excellent compilation of his seminal thoughts on management and organization comes like a timely gift from heaven. The values and principles he taught decades ago are even more relevant today." -Stephen Covey, author, The Seven Habits of Highly Successful People.

"Maslow's book is a readable, impressionistic masterpiece that extolled the virtues of collaborative, synergistic management decades ahead of its time. This edition reveals just how much the management thinkers of our day, including Peter Drucker, W. Edwards Deming, and Peter Senge, owe to Maslow, and how much, at the dawn of the twenty-first century, management can still learn from his insights." -Andrea Gabor, author, The Man Who Discovered Quality.

"Maslow's brilliant and humane perspectives are made easily accessible in this exceptional book. It's also quite humbling-why haven't we yet actualized the truths about human nature and the nature of work?" -Margaret J. Wheatley, author, Leadership and the New Science and A Simpler Way.

"Maslow's profound concept of self-actualization could generate a Copernican Revolution of work and society, catapulting us out of what future generations will look back on as the dark ages of management." -Jim Collins, coauthor, Built to Last.

The pioneer behind the hierarchy of needs and the concept of self-actualization, Dr. Abraham Maslow was-and is-one of the world's most esteemed experts on human behavior and motivation. However, while perhaps most famous for his work in the area of humanistic psychology, his legacy of work encompasses much more, extending into the realms of business and management. Having explored and studied the relationship between human behavior and the work situation, Maslow translated the science of the mind into the art of management=an important interpretation first published in the far-sighted treatise, Eupsychian Management, and whose impact continues to be felt today. Now, this seminal work has been updated, primed to introduce new readers to-and reacquaint old admirers with-what some have called the renowned psychologist's best book.

Bringing into perspective the lasting impact of Maslow's groundbreaking principles, Maslow on Management illustrates how they have withstood the test of time to become integral components of current management practices, such as continuous improvement, Theory X, and empowerment. Offering insight into using these and other tools to effectively tackle present-day business situations, from heightened competitiveness to globalization to emerging technologies, Maslow on Management covers a wealth of timeless topics, including:
* Self-actualization-the freedom to effectuate one's own ideas, try things out, make decisions, and make mistakes
* Synergy-what is beneficial for the individual is beneficial for everyone; individual success should not occur at the expense of others; align organizational goals with personal goals
* Enlightened management policy-assume that all your people have the impulse to achieve; everyone prefers to be a prime mover rather than a passive helper; everyone wants to feel important, needed, useful, successful, and proud; there is no dominance-subordination hierarchy.

To complement Dr. Maslow's original writings and to demonstrate how his forward-thinking ideas are being played out in today's business world, Maslow on Management features interviews with Perot Systems Chairman Mort Meyerson, Non-Linear Systems founder Andrew Kay, Esalen Institute founder Michael Murphy, and other prominent figures who provide incisive commentary on subjects ranging from creativity in business to leadership lessons for the digital age.

Epitomizing the genius of its author and embodying his elegant ruminations, Maslow on Management is still as important as it was when it first appeared. A true classic, this is essential reading for all managers.
The Attitude of Self-Actualizing People to Duty, Work, Mission.

Additional Notes on Self-Actualization, Work, Duty, Mission.

Self-Actualized Duty.

Different Management Principles at Different Levels in the Hierarchy.

Enlightened Economics and Management.

The Neglect of Individual Differences in Management Policy.

The Balance of the Forces toward Growth and Regression.

Memorandum of the Goals and Directives of Enlightened Management and of Organizational Theory.

Regressive Forces.

Notes on Self-Esteem in the Work Situation.

Management as a Psychological Experiment.

Enlightened Management as a Form of Patriotism.

Relationship between Psychological Health and the Characteristics of Superior Managers, Supervisors, Foremen, etc. (Notes from Likert).

Further Notes on the Relationship between Psychological Health and the Characteristics of Superior Managers (Notes from Likert).

Memorandum on Enlightened Management.

By-Products of Enlightened Management.

Notes on Synergy.

The Synergic Doctrine of Unlimited Amount of Good versus the Antisynergic Doctrine of Unlimited Amount of Good.

Addition to the Notes on Synergy.

Memorandum on Syndrome Dynamics and Holistic, Organismic Thinking.

Notes on the B-Values (the Far Goals; the Ultimate Goals).

Notes on Leadership.

The Superior Person-The "Aggridant" (Biologically Superior and Dominant) Person.

The Very Superior Boss.

Notes on Unstructured Groups at Lake Arrowhead.

Notes on Creativeness.

Addition to the Notes on the Creative Person.

Notes on the Entrepreneur.

Memorandum on the Redefinition of Profit, Taxes, Costs, Money, Economics, etc.

Additions to the Notes on Profits.

Additions to the Notes on Definition of Profits, Costs, etc.

The Good Enlightened Salesman and Customer.

Further Notes on Salesmen and Customers...

Memorandum on Salesmen and Salesmanship.

On Low Grumbles, High Grumbles, and Metagrumbles.

The Theory of Social Improvement;
The Theory of the Slow Revolution.

The Necessity for Enlightened Management Policies.

Bibliography.

Index.