Media Life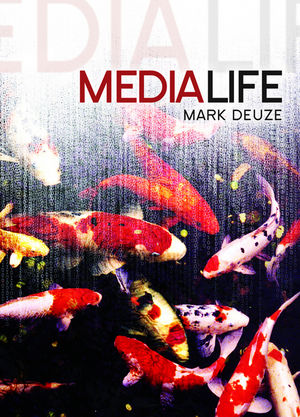 Media Life
ISBN: 978-0-745-68053-8 January 2014 Polity 256 Pages
Description
Research consistently shows how through the years more of our time gets spent using media, how multitasking our media has become a regular feature of everyday life, and that consuming media for most people increasingly takes place alongside producing media.
Media Life is a primer on how we may think of our lives as lived in rather than with media. The book uses the way media function today as a prism to understand key issues in contemporary society, where reality is open source, identities are - like websites - always under construction, and where private life is lived in public forever more.
Ultimately, media are to us as water is to fish. The question is: how can we live a good life in media like fish in water? Media Life offers a compass for the way ahead.
Table of contents
Preface: In Media
1. Media Life
2. Media Today
3. What Media Do
4. No Life Outside Media
5. Society in Media
6. Together Alone
7. In Media We Fit
8. Life in Media
References
Endnotes
Reviews
"Media Life is a daring, provocative and mindful analysis of the many ways in which media have become an irreducible component of the social. It is written in a very approachable style, presented in an impeccable typographic design, and is impressive in its scope of concepts, terminologies, and the body of examples from market research, art and popular culture."
Christoph Raetzsch, Digital Journalism

"Draws on a wide array of sometimes sharply original ideas about both entrapment and opportunity, organizing them vigorously and often with wit."
European Journal of Communication

"This innovative interpretation of our relationship to media is both coherent and the fruit of much thought. It contains the promise of a long-sought-for new paradigm to replace the original causal-linear model of mass communication."
Denis McQuail, University of Amsterdam
"Media Life is a fresh and inspiring book, dense in original ideas and intuitions. It is an outstanding book to read, to study, to cite, to have on the shelves of your library, to lend to friends, to suggest to students, and to think about when you yourself take part in media life."
Leopoldina Fortunati, University of Udine
"In Media Life Mark Deuze gives us an immediate sense of the embedded, interconnected, and multi-modal character and necessity of media in contemporary life. It is also a window into the next generation of communication research and scholarship, where the familiar divides between channel and content, interpersonal interaction and mediated communication, the personal, the institutional, and the systemic will fade and reconfigure. Just as we cannot not communicate, today we cannot not mediate. An indispensable tour of the emerging boundaries of media studies."
Leah Lievrouw, University of California Los Angeles
Features
An innovative textbook introducing students to media and society from the starting point that our lives are now intertwined with media.
Based on a large introductory course and developed with beginning students in mind.
Introduces both traditional forms of media and digital technologies and shows how they are converging.
Written by an energetic, internationally-renowned author.