Media and Society into the 21st Century: A Historical Introduction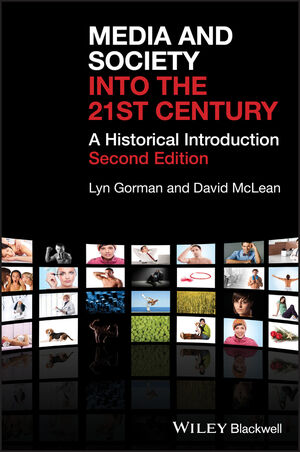 Media and Society into the 21st Century: A Historical Introduction
ISBN: 978-1-405-14935-8
Jan 2009, Wiley-Blackwell
380 pages
Description
Media and Society into the 21st Century captures the breathtaking revolutionary sweep of mass media from the late 19th century to the present day.

Updated and expanded new edition including coverage of recent media developments and the continued impact of technological change
Newly reworked chapters on media, war, international relations, and new media
A new "Web 2.0" section explores the role of blogging, social networking, user-generated content, and search media in media landscape
Acknowledgments.
1. Introduction.
2. The Press as a Mass Medium.
3. The Development of the Film Industry.
4. The Growth of Radio Broadcasting.
5. The Rise of Advertising.
6. Propaganda in Peace and War.
7. Cold War and Communications.
8. Television and Consumer Societies.
9. Media, Information, and Entertainment.
10. Media, War, and International Relations.
11. The Rise of New Media.
12. Globalization and Media.
13. Conclusion.
Notes.
Further Reading.
Index.
"An incisive and engaging scholarly account of the technological and cultural forces which have shaped modern media. The scope and ambition of the work is complimented by a lively and approachable style of writing, sure to inspire the reader."
Dr A E Cavanagh, Programme Director BA Communications Studies, Institute of Communications Studies, University of Leeds
Praise for the first edition:

'This is easily the best study of twentieth-century media I've seen. It combines historical with contemporary media studies research to trace the origins and impact of all major media and does so in well-written prose that will please teachers and inspire students.' Gary Cross, The Pennsylvania State University

'This important survey brings together the findings of specialized research on media history in a number of countries and analyses developments over the course of the twentieth century. The historical sweep is monumental and the analytical grasp of the authors on the profound technological changes that have shaped our lives is impressive. I congratulate the authors for making a significant contribution to the history of the twentieth century and of the communications revolution.' David Welch, University of Kent at Canterbury

"Those looking for a quick but insightful survey will find this treatment hard to beat" Choice


Updated and expanded new edition including coverage of recent media developments and the continued impact of technological change


Newly reworked chapters on media, war, international relations, and new media


A new "Web 2.0" section explores the role of blogging, social networking, user-generated content, and search media in media landscape