Meta-analysis in Medical Research: The Handbook for the Understanding and Practice of Meta-analysis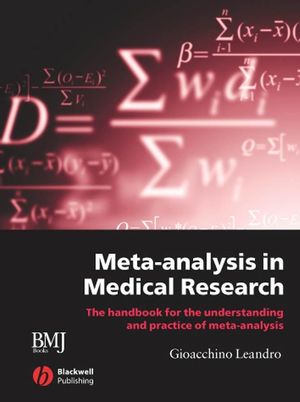 Meta-analysis in Medical Research: The Handbook for the Understanding and Practice of Meta-analysis
ISBN: 978-1-405-14385-1 May 2008 BMJ Books 112 Pages
Description
This book is a joint package of a
practical manual
on how to undertake meta-analysis in medicine together with an accompanying
CD-ROM
. This provides individuals with access to meta-analysis software and the instructions and guidance on how to undertake them.
The software package contains a computer program 'Metanalysis' which performs statistical analyses for the meta-analysis. It has some unique features currently not available in other meta-analysis software packages:



ability to import graphics into Word, PowerPoint etc

Galbraith's plots

cumulative meta-analysis

number needed to treat

publication bias assessment
The graphics generated by the software are in a format compatible with Microsoft PowerPoint.

Click here to view sample graphics.

Order your copy online today!
Table of contents
Foreward.
Preface.
Introduction.
How to plan a meta-analysis.
Bias in the meta-analytical approach.
Statistical procedures.
Working procedures.
How to read, evaluate and present a meta-analysis.
How to use the program.
References.
Glossary.
Index.
The book is accompanied by a CD-ROM containing a software program called 'Metanalysis' which allows the user to undertake meta-analysis themselves and produce statistical plots in a format compatible with Microsoft PowerPoint.
Reviews
"The book's real selling point is the
Metanalysis
program which can use odds ratios and absolute risk differences...There are nine different options for plotting graphs, and the program produces very neat Galbraith plots which can be difficult to create elsewhere...
...People wanting to use an easy program for meta-analysis or to revise the methods of meta-analysis could consider buying this book."

- Royal Statistical Society, Series A, Vol 168(4) Oct 05.

"This is a concise and easy-to-read book written by a clinician so it takes into account problems faced by non-statisticians when dealing with tools such as meta-analysis...I would recommend it to all statisticians or clinicians who aspire to be/are involved in clinical research. In addition, it will be a useful book for any health sciences library."

- Journal of Applied Statistics, Vol. 33, No. 6, Jul 06

"The main selling point has to be the meta-analysis program supplied on CD...

...The program itself is easy to install and run...

...Recommend this handbook to those wanting a quick entry into the world of meta-analysis."

- gut.bmj.com, Jun 07.
Features


Practical manual & accompanying computer programme to perform statistical analyses

User-friendly software package for cumulative meta-analysis – easier to use with increased functionality


Spiral bound for ease of use


Ability to import graphics into Word, PowerPoint