Metal Fatigue in Engineering, 2nd Edition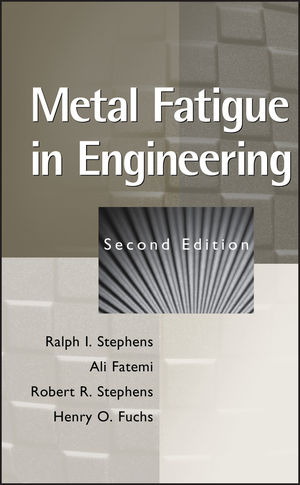 Metal Fatigue in Engineering, 2nd Edition
ISBN: 978-0-471-51059-8 October 2000 496 Pages
Description
Classic, comprehensive, and up-to-date

Metal Fatigue in Engineering

Second Edition

For twenty years, Metal Fatigue in Engineering has served as an important textbook and reference for students and practicing engineers concerned with the design, development, and failure analysis of components, structures, and vehicles subjected to repeated loading.

Now this generously revised and expanded edition retains the best features of the original while bringing it up to date with the latest developments in the field.

As with the First Edition, this book focuses on applied engineering design, with a view to producing products that are safe, reliable, and economical. It offers in-depth coverage of today's most common analytical methods of fatigue design and fatigue life predictions/estimations for metals. Contents are arranged logically, moving from simple to more complex fatigue loading and conditions. Throughout the book, there is a full range of helpful learning aids, including worked examples and hundreds of problems, references, and figures as well as chapter summaries and "design do's and don'ts" sections to help speed and reinforce understanding of the material.

The Second Edition contains a vast amount of new information, including:
* Enhanced coverage of micro/macro fatigue mechanisms, notch strain analysis, fatigue crack growth at notches, residual stresses, digital prototyping, and fatigue design of weldments
* Nonproportional loading and critical plane approaches for multiaxial fatigue
* A new chapter on statistical aspects of fatigue
Introduction and Historical Overview.

Fatigue Design Methods.

Macro/Micro Aspects of Fatigue of Metals.

Fatigue Tests and Stress-Life (S-N) Approach.

Cyclic Deformation and the Strain-Life (-N) Approach.

Fundamentals of LEFM and Applications to Fatigue Crack Growth.

Notches and Their Effects.

Residual Stresses and Their Effects on Fatigue Resistance.

Fatigue from Variable Amplitude Loading.

Multiaxial Stresses.

Environmental Effects.

Fatigue of Weldments.

Statistical Aspects of Fatigue.

Appendix.

Indexes.